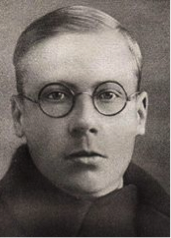 Nikolay Zabolotsky was a Russian poet who was a member of a Futurist group of writers known as "Oberiu". These were men who dabbled in the avant-garde and the absurd in their writings, often seeking to banish the old style of literature to history in favour of themes that embraced the ever-increasing industrialisation in their country. They often strayed into dangerous waters though, being openly critical of Stalin's policies in their work. Zabolotsky also wrote material for children and was a translator of many old pieces of work into Russian.
He was born Nikolay Alexeyevich Zabolotsky on the 7th May 1903 in Kizicheskaya Sloboda which is part of the modern-day city of Kazan. He moved around with his family during his early years and, at the age of seventeen, he left home and headed for Moscow. Courses of study in medicine and philology were followed by one at the Pedagogical Institute of Saint Petersburg State University. All this time though he was writing poetry and was developing a great interest in Futurist works by the likes of Velimir Khlebnikov and Vladimir Mayakovsky. He was also attracted to the lyrical style of Sergei Esenin and Alexander Blok.
In 1926, in collaboration with Daniil Kharms and Alexander Vvedensky, he formed the avant-garde group Oberiu and this organisation's aims were reflected in their name, which was an acronym that translates to "The Association of Real Art". Three years later Zabolotsky published his first collection of poetry under the title Columns. Some of the poems were very critical of Lenin's "New Economic Policy" and highlighted a number of social concerns. There were also a number of elegies in the collection and poems about the natural world that he saw around him. A good example of the latter is a simple piece called Rainy Weather: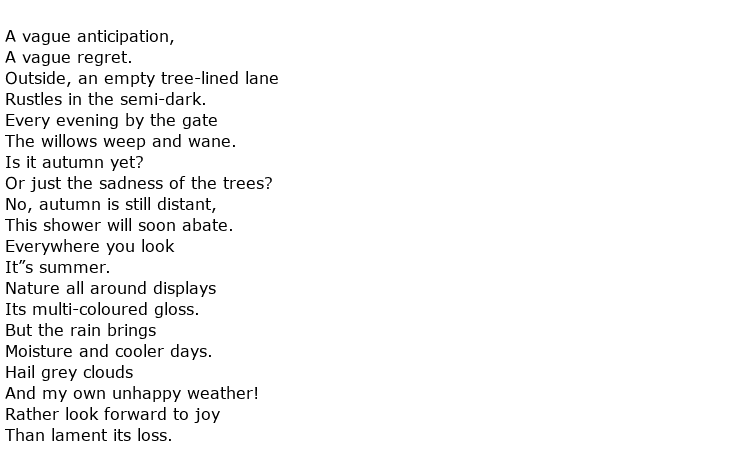 These were not good days for radical poets though and, inevitably, Zabolotsky's critical work attracted the unwelcome attention of the Russian government and he found himself sentenced to five years in prison in 1938 under the latest of Stalin's purges against artists and writers. He was sent to Siberia and remained there until after the Second World War was finished in 1945. He was able to carry on writing though and took on the major project of translating The Tale of Igor"s Campaign, a medieval epic poem written in the old East Slavic language.
On release he returned to Moscow and, in 1946, was allowed to rejoin the Union of Soviet Writers. The harshness of incarceration and exile had an inevitable effect on his writing style and, from then on, he adopted a more conservative, traditional approach to his work. His later work has often been compared to that of the great Russian Romantic poet Fyodor Tyutchev. He carried on his translation work as well, often turning the work of Georgian poets such as Vazha-Pshavela and Grigol Orbeliani into Russian.
Perhaps as a result of his exile, Zabolotsky's health was not good and he was struck down by a heart attack in 1956. He spent most of the rest of his days in the small town of Tarusa.  A second, this time fatal, attack followed two years later while in Moscow.
Nikolay Zabolotsky died on the 14th October 1958, aged 55.