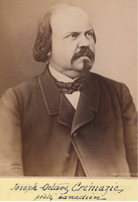 Octave Crémazie was a 19th century French Canadian poet who so caught the imagination of the Canadian reading public that he became known as the "father of French Canadian poetry." He specialised in patriotic verse and was at the forefront of the cultural development of Quebec.
He was born on the 16th April 1827 in Quebec City. His parents perhaps had a religious future planned for him when they sent him to the Seminary of Quebec. It was here that an American priest called John Holmes got the boy interested in the writings of French romantic writers such as Victor Hugo and Alfred de Musset. He devoured this material and was clearly influenced in his own future efforts because of this early exposure.
He took up the bookselling trade following his studies, in business with his brother Joseph. This little shop soon developed a reputation amongst the literary set of Quebec City and many gatherings were held there of writers, all part of the burgeoning Quebec Literary Movement of 1860. Crémazie saw his first published poems appear in a publication called L'Ami de la religion et de la patrie along with a number of newspapers in the city.
Some of his work appeared to be a cry in the dark for past glories and Crémazie wrote as if he were a poet in exile from his estranged France. Indeed, he actually fled Canada for France in 1862 as the bookstore that had been so popular suddenly found itself in financial difficulties, leading to bankruptcy for the business. He moved around, settling in places such as Le Havre, Paris and Bordeaux under an assumed name (Jules Fontaine). His financial situation was dire, and yet he made no effort to support himself with his writing. Records show that his output of poetry stopped as soon as he left Quebec.
Life was especially hard during the siege of Paris during 1870 and 1871 and, although he was never moved to compose anything in verse, he did keep a diary of events in the city which he called Journal du siège de Paris. It was a compelling account of the hardships that he, and many Parisians, endured during this time. He also wrote a great deal to the Roman Catholic priest, Henri-Raymond Casgrain, who was back home in Quebec. This correspondence proved that he was still thinking, at least, about French-Canadian literature even if he was no longer contributing to it.
After his death a collection of Crémazie's poems and letters was published in 1882 under the title Œuvres completes. It was a joint venture by the Institut Canadien de Québec and the Beauchemin bookstore in Montreal. It was a tribute to a man considered one of his country's greatest poets who had fallen on hard times in his later years. In the preface was the inscription:



Here is a translation of one of his patriotic poems, simply called Le Canada: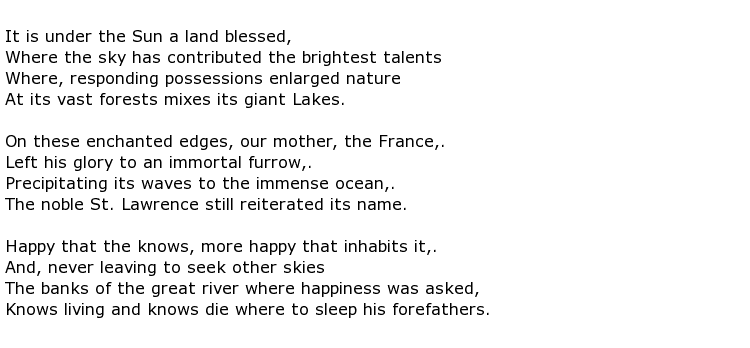 Crémazie is commemorated in Saint-Louis Square, Montreal with a statue that depicts a French-Canadian soldier but which has his named across the top. Below are the words "Pour mon drapeau je viens ici mourir" which literally means


Octave Crémazie died on the 16th January 1879 in the French port of Le Havre, at the age of 51.