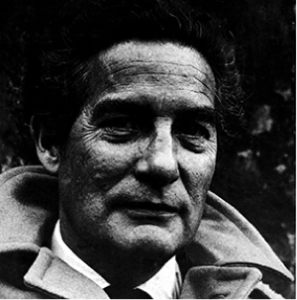 Octavio Paz, renowned poet, writer and essayist, was born in Mixcoac – now Mexico City – on 31st March 1914.  His mother was Josefina Lozano and his father was Octavio Paz Solorzano, also a writer and an active supporter of the Mexican Revolution.  His grandfather was a novelist and publisher and young Octavio, by virtue of access to his grandfather's extensive library, became interested in literature from an early age.
Paz's literary career began in his late teens when, encouraged by fellow poet and political activist Pablo Neruda he published a magazine, 'Barandal'.  Influenced by Spanish writers Gerardo Diego and Juan Jimenez he began to write prolifically, producing his first collection of poems, 'Caballera' swiftly followed by his second collection, 'Luna Silvestre', all by the age of nineteen.
Paz studied law at Colegio Williams in Mexico City but by 1936 he had left his studies to travel to Yucatan and set up a school for the children of peasant workers.  In 1937 he took part in the Spanish Civil War, fighting against the fascist dictator General Franco's armies and whilst in Valencia joined the Second International Congress of  Anti-Fascist Writers.  On his return to Mexico he determined to further the cause of Spanish republicanism and afterwards began to spend time in the United States, where his work took on many influences including Marxism, Surrealism and Aztec mythology.  He said, "Surrealism is not a school of poetry but a movement of liberation – a way of rediscovering the language of innocence."  His 1957 poem 'Piedra de Sol' ( Sun Stone) is based on the Aztec calendar stone and his collection 'The Labyrinth of Solitude', a comprehensive analysis of  Mexican culture and society, established his reputation as a writer of importance in the 1950s.   Here is an extract from Piedra de Sol:

His work as a journalist in the 1930s and 1940s saw him editing several literary reviews including in 1941 Laurel, an authoritative compilation of Spanish poetry.
After World War 2 he joined the Mexican Diplomatic Corps and in 1946 he took up a post as Mexico's cultural attaché to France, serving in the diplomatic corps for the following twenty years or so.  This allowed him to continue writing and he published dozens of books of poetry and prose.  In 1961 the English translation of 'The Labyrinth of Solitude' in which Paz argues that:

…became required study for students of Latin American  literature.
In 1962 Paz was appointed Mexico's ambassador to India but resigned in 1968 in protest at the massacre of students in Mexico City by government forces on the eve of the Olympic Games.  By this time he had married his second wife, Frenchwoman Marie-Jose Tramini whom he described as:

He continued to write prolifically throughout his life, his work growing ever more complex in exploring the relationship between philosophy, politics and the person.
He was awarded numerous prizes for his work culminating in the award of the Nobel Prize for Literature in1990.
Octavio Paz died from cancer in Mexico City on April 19th 1998.