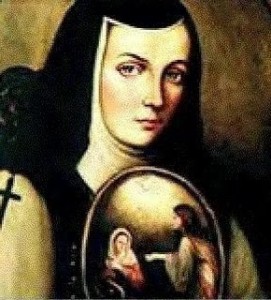 Born around 1651 in Mexico, Sor Juana Ines de la Cruz was a poet, scholar and nun who is often referred to as the 10th muse. She grew up at a time when the country was still seen as part of Spain but has long been considered one of Mexico's most influential poets, even though she lived in an environment where it wasn't a woman's place to be either artistic or intelligent.
She was considered devoutly religious from an early age and spent a good deal of her youth living at her grandfather's hacienda where she enjoyed reading. Despite not being formally schooled, she appeared to be gifted academically and wrote her first poem when she was just eight years old. By her teens she was mastering Greek logic and beginning to teach other children. Unable to attend university because she was female, when she moved to Mexico City to stay with her mother she continued to study by herself.
De la Cruz then fell under the wing of the wife of a Mexican viceroy and, at the age of 17, she suddenly became something of a celebrity because of her level of learning and scholarly knowledge. Her reputation grew and she was the subject of several marriage proposals which she rejected, opting instead for the life of a nun in a local monastery.
She had her own library and study and often had deep conversations with the scholars and academics of the time, writing poetry and articles and continuing to learn. She was protected at the time by the viceroy and his wife who acted as her patrons but when they left for Spain in 1688, de la Cruz was suddenly open to greater levels of criticism, particularly from the religious leaders in Mexico.

When she chose to write an essay explaining why women should have an education, it was criticized by the likes of the Archbishop of Mexico and shortly after she was forced to stop writing, perhaps to avoid any kind of censure. Her body of work is all the more remarkable considering the difficulty faced by all women who wanted to pursue an academic or artistic future.
Just as remarkable is the range of her work, from comedy, plays, and poetry to essays and letters, all a testament to her thirst for new forms of expression and the desire to learn about the world around her. The fact that she taught herself was explored in her poem First Dream which was noted for its intelligence and passion even at time when women weren't supposed to do that sort of thing.
Most of her writing was done after she became a nun, though she was often considered a remarkable wit and beautiful courtesan in her days in the Imperial City of Mexico. Her Response to Sor Filotea is seen as one of the first feminist essays and outlines her enduring thirst for new knowledge and to learn as much as she could.

After she was forced to give up her writing, de la Cruz undertook a period of penance. In 1695, the plague visited the convent and she worked tirelessly to help her fellow nuns. She contracted the disease herself shortly afterwards and died at the age of 44.