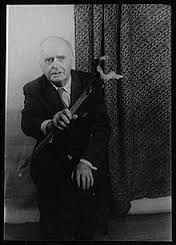 One of the great figures in the revival of literature in Ireland, Padraic Colum was born in County Longford in 1881. His father worked in a workhouse for the first 9 years of Colum's life but then lost his job, prompting him to race to America to take part in the much vaunted gold rush at the time. The rest of the family stayed in County Longford until 1892 when they moved to a place near Dublin where Colum went to school.
When he left there at 17, following the death of his mother, Colum found a job with the Irish Railway, a post he would hold until 1903. By this time he had also begun to write and, being close to Dublin, came into contact with some of the great writers of the time including W B Yeats and George William Russell. He met James Joyce and the two became lifelong friends and also found a wealthy patron in Thomas Kelly.
Colum wrote his first play, The Saxon Shillin', in 1902 and it won a prize from The Society of Gaels, a political party that was interested in a free state of Ireland. Producing plays and getting to know the likes of Arthur Griffiths, Colum helped in the founding of the Abbey Theatre where a number of his early works were performed.
His relationship with Griffiths also led to the publication of some of his first poetry. Griffiths edited the United Irishman and many of the poems that were initially found in the paper were later gathered for the collection Wild Earth that was published in 1907. It was this work that caught the attention of poet W B Yeats and helped to further Colum's poetry career.
In 1911 he became friends with Mary Maguire and they worked together to establish The Irish Review which published works by Yeats and other poets and writers involved in the Irish revival. He later married Mary and moved to Howth on the coast of Ireland before heading to the United States where they lived for the next eight years.
There Colum turned his attention to writing children's stories, publishing The King of Ireland's Son in 1916 which brought him greater success. This move, and a lucrative contract from a publishers, gave Colum and his wife a great deal of financial security over the following years. His next works helped to bring classical literature to the young and in the 1920s he began writing novels such as The Flying Swans.

In 1930 he and Mary moved to Paris for three years where he helped transcribe his friend Joyce's last and most tortuous work, Finnegan's Wake. After Mary died in 1957, Colum spent his time moving between the US and France, often teaching at Columbia State University. His last work, the memoir Our Friend James Joyce, was published in 1958.
Colum died in Connecticut in 1972 at the age of 90 and he was buried in Sutton on the North side of Dublin near to where he spent most of his life.