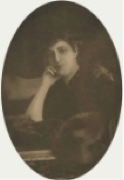 Rida Johnson Young was a late 19th/early 20th century writer of music and plays. She was a prolific writer of songs and at least five hundred compositions have been credited to her. Additionally she was a playwright with some thirty plays and musicals under her belt and was also an accomplished librettist. Her outstanding efforts as a song writer earned her a place in the Songwriters Hall of Fame in 1970.
Some reports place her date of birth as the 28th February 1875 in Baltimore, Maryland while others suggest that she was born seven years earlier, in 1869. Little is known about her upbringing but it was clear that she had a talent for writing from early on. After graduating from Wilson College, she tried her hand at acting first, joining at least two different companies and performing on the famous New York stages of Broadway. Her big break in writing came when she won a position working for a music publisher called Isidore Witmark and her first effort, a play called Lord Byron, was staged in 1900.
She managed to get a play on Broadway in 1906. Brown of Harvard contained at least one of her songs which eventually became well known. This was called When Love Is Young. The following year the Lyceum Theatre staged The Boys of Company "B" which was a well-received comic production. She was now a prolific writer and more plays followed, more or less a new one every year. In 1908 Glorious Betsy was staged and that was eventually adopted for the movies, winning Young an Academy Award nomination in 1928 for writing an adapted screenplay.
She moved into the world of operetta with a production called Naughty Marietta. Young wrote the libretto to accompany music by Victor Herbert. The pair went on to do a lot of great work together. Naughty Marietta was first staged in October, 1910, and it ran for over a hundred performances on Broadway. It was eventually turned into a movie starring Nelson Eddy and Jeanette MacDonald. It was a jaunty, romantic piece set in 1780 and contained catchy songs such as Ah! Sweet Mystery of Life and I'm Falling in Love with Someone.
She was now recognised on Broadway as an established song writer and playwright and the successes just kept on coming, with Broadway productions seen on a regular basis right up to the mid-1920s. She also wrote screenplays for movies Bessie Love in 1919 and The Little Boss the following year. Very much a minor part of her writing activities though was poetry. One piece attributed to her was the poem Ah! Sweet Mystery Of Life, a short poem reproduced here in full:



For all her success Young was not immune from serious illness and she finally succumbed after a long and painful struggle with breast cancer.
Rida Johnson Young died on the 8th May 1926 in Stamford, Connecticut. As her date of birth is disputed, it is assumed that she was either in her early- or mid-fifties.