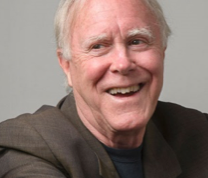 Robert Hass is a US poet now in his seventies who has won many honours and awards for his writing, including his appointment as



between the years 1995-97.  Much of his writing reflects his Californian origins in both subject matter and attitude and he has been described in some quarters as "a lyrical virtuoso who is able to turn even cooking recipes into poetry".  He has been much influenced by East Asian poetic techniques, such as haiku.  He has held teaching posts at a number of educational establishments including Buffalo University and the University of California, Berkeley.
Born on the 1st March 1941, he grew up in the north bay area of San Rafael, San Francisco.  Life was never easy with an mother who was an alcoholic to contend with.  Hass wrote about this condition in his collection called



which was published in 1996.   From a young age he was encouraged to write, particularly by his older brother, and the 1950s was an exciting time for young bay area poets with the Beat generation being led by the likes of Allen Ginsberg and Gary Snyder.  His education began at the Marin School from where he graduated in 1958. Over the next 13 years he attended Saint Mary's College and then went on to Stanford where he achieved a Masters' degree in 1965 and then a PhD in 1971.
Stanford influences included Yvor Winters whose poetry would have a great effect on him in later years.  He has always had a burning ambition to take poetry to places where poets don't normally go.  For example, while serving as Poet Laureate, he travelled the country, lecturing small groups in halls or groups of executives in corporate boardrooms.  For many years he wrote about literary subjects in a column for the Washington Post.
Hass is one of those poets who is never afraid to express himself in a free-flowing, unstructured way.  Poems such as



are prose-like and powerful in language and delivery.  It is a piece about the angels looking down on everyday events like lovemaking, a natural act going on every day, everywhere.  Here are the opening lines to the poem: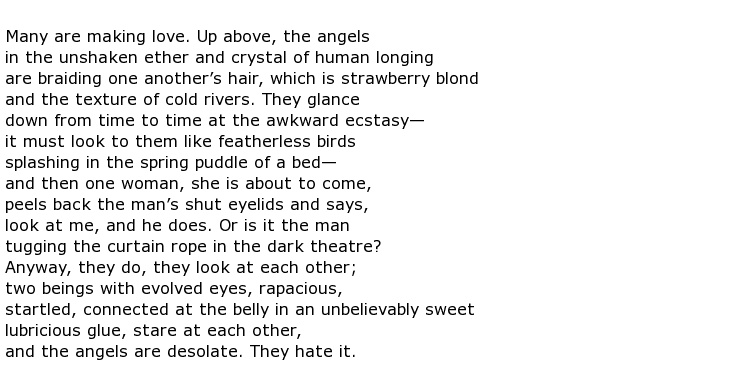 He describes such "normal" activities in his work in such a way that the reader could be forgiven for believing that it is not really a poem at all that they are reading.  This was summed up by a quote from fellow poet Stanley Kunitz who said:



Hass's first poems were published in 1973 under the title Field Guide and he has produced another five collections of original poetry.  Additionally he has written a number of critical pieces such as



published in 1984, and A Little Book on Form: An Exploration into the Formal Imagination of Poetry (2017).  He also began translating much of the work of Polish poet Czesław Miłosz into English in 1984, a project which ran to several volumes culminating in



in 2004.  At that time Hass cited Miłosz as one of the five most important poets over the last fifty years.
In the last twenty years or so he has been actively involved in a project called ecoliteracy which is aimed at encouraging schools to involve students in writing poetry and other artistic pursuits, from as early an age as possible.  His many literary awards include the National Book Critics Circle Award for his poetry collection Sun Under Wood, awarded in 1984, and the Pulitzer Prize for Poetry which he shared in 2008 for Time and Materials.
Robert Hass is married to fellow poet Brenda Hillman, a university professor and anti-war activist.