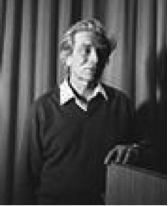 Roland Robinson was a 20th century Australian writer of Irish origin who was honoured with the prestigious Order of Australia for his literary efforts. As well as enjoying a great reputation as a poet he was also an accomplished story teller, often relating Aboriginal tales and captivating his audiences in the area of Lake Macquarie which is where he lived out his later years.
He was born Roland Edward Robinson on the 12th June 1912 in County Clare, Ireland. His family, like many other Irish people, emigrated in search of a better life, often in Great Britain but, in the case of the Robinsons, they set sail on the arduous journey to Australia. Roland was only nine years old so he was put into a local school for a short time. He was not a studious boy though and was soon out earning money in a series of manual labour-type jobs such as gardening, fencing and building dams. He was also a bush roustabout but, in stark contrast, he also became a very capable ballet dancer.
Despite his lack of education Robinson had a talent for poetry writing but it was not until 1944 that his first work was published in Beyond the Grass-Tree Spears. As he had been employed in a series of outdoor based jobs it was inevitable that he would develop a love for, and empathy with, the great Australian landscapes all around him. What he saw and experienced were great influences on his work but these were not always lyrical accounts of flowers, mountains and rivers. He obviously saw, and had first-hand experience of, the hard life that many people lived. Here is a poem about such people, the men whose job it was to drive cattle across the hot, dusty plains. It is simply called The Drovers: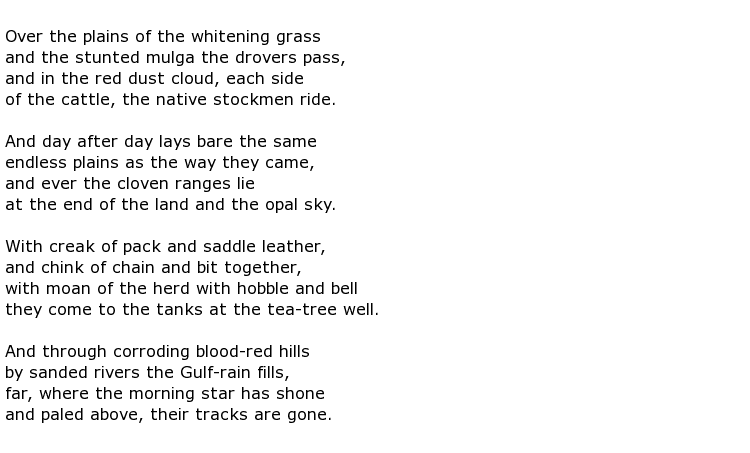 It was to his great credit that Robinson was an active member of a literary group called the Jindyworobak Movement. It was founded by a poet called Rex Ingamells, in Adelaide, and was made up of a group of poets and writers with nationalistic leanings whose aim was to promote and celebrate the art and literature of the indigenous Australians who had been there long before the white settlers arrived. The movement was at its height between the 1930s and 1950s which was a time when a great deal of "alien" culture was beginning to dominate throughout the country. The term "Jindyworobak" comes from the Woiwurrung language and literally means "to join" or "to annex" and members of the group were often referred to as "Jindys".
Robinson served in the Australian army towards the end of the Second World War and was also a journalist on the Sydney Morning Herald. He wrote a specialist column on dancing having had experience of the ballet during the 1940s, taking lessons with a Danish ballerina called Helene Kirsova. He obviously achieved a reasonable standard in this art as he appeared in several of her company's productions.
He won a number of awards, including the Order of Australia medal in 1984 for "services to literature", especially for his tireless efforts to preserve Aboriginal folklore.
Roland Robinson died on the 8th February 1992 at the age of 79.