Samuel Lover was born in Dublin at the end of the 18th century and his artistic talents made him one of Ireland's best known and best loved songwriters. He also wrote novels and was an able poet. Added to all this he was a talented portrait painter and made a speciality of painting miniatures which were very popular at that time. His writing celebrated the poorer echelons of Irish society and this probably enhanced his popularity amongst his countrymen.
Samuel was born in a small house in Grafton Street, Dublin on the 24th February 1797. He had a fairly modest education and didn't have to travel far. Samuel Whyte's school was located only a few doors away from his home. It is not there anymore, although the building still stands and is now occupied by a business called Bewley's café. He was displaying his writing talents at an early age. The Irish have always loved to sing and dance and Lover wrote a number of songs that soon became popular. Indeed,



…are traditional songs that are still popular today.
A story called Rory O'Moore was originally written as a ballad but was eventually published as a novel and he also wrote another novel called Handy Andy. He made a living from writing popular ditties which were incorporated into short Irish-themed sketches and performed under the title Irish Nights (also known as Irish Evenings). The urge to try his luck "across the water" found him moving, in 1835, to London where he continued writing material that would be performed on the stage. His contribution was mostly in the form of songs but he also tried his hand at composing the music as well, particularly for the operetta Il Paddy Whack in Italia. This was a humorous production first seen in 1841.
Lover was a contemporary of the famous Englishman Charles Dickens and the two of them collaborated in founding a literary magazine known as Bentley's Magazine. With an ever-growing Irish population to be found in America he thought he would introduce them to his Irish Evenings entertainments and a successful tour of North America took place between 1846 and 1848. Lover was certainly a prolific writer and his passion for the art was summed up in this statement:

Samuel Lover was regarded, by many literary and art critics, as a genius. His skill with both pencil and pen were said to:

Here is an example of his poetry which tells the tale of a simple man who has no need for monetary riches, preferring to live a simple life roaming the land, finding all that he needs from the bounties offered by the natural world. The poem is called Give Me My Arrows and Give Me My Bow: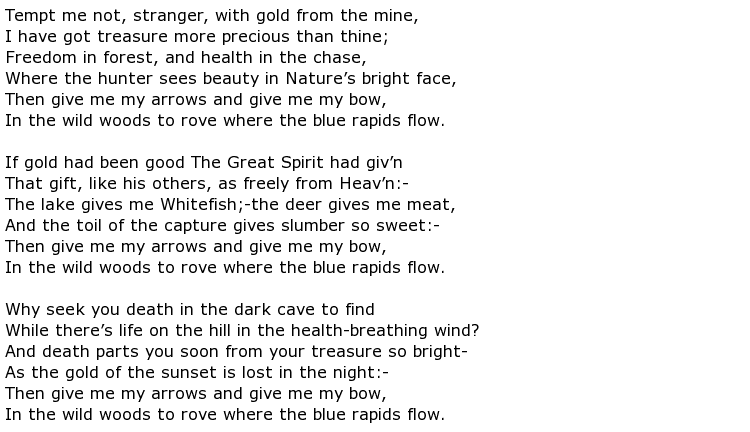 His musical talents were passed down through his family, particularly to his famous grandson, Victor Herbert. This Irish-born, but raised in Germany, composer had great success with a number of operettas and musicals, some of which received premieres on Broadway.
Samuel Lover died on the 6th July 1868, aged 71 on the Channel Island of Jersey. He is remembered in his home city with a memorial plaque placed on the walls of St Patrick's Cathedral in Dublin.