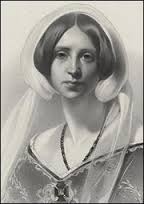 Born in 1802 in Keswick, Sara Coleridge was the daughter of Samuel Taylor Coleridge and an accomplished writer in her own right. She was brought up under the literary security of Greta Hall, brushing shoulders with the Wordsworths and their son William who lived nearby, and this environment seems to have been the prime source of her education.
Coleridge was largely self-taught, reading the ancient classics and teaching herself several languages in which she was quite proficient by the age of 25. As would befit an individual surrounded by writers and poets, she began composing her own works from a young age. In truth, though, Coleridge tended to keep her light under a bushel and published only two poetry collections, anonymously, during her lifetime.
It wasn't until early in the 21st Century that a collection of 120 of her poems was discovered in Texas, setting her apart as an important minor poet of the time. Sara Coleridge was something of a catch in the early part of the 19th Century, an attractive woman who was precociously talented. Her first publication of a serious nature was Account of the Abipones, a translation published in three volumes that appeared in 1822 when she was just 20 years old.
A few years later she produced another translation, this time of Loyal Serviteur, translated from the Medieval French and, in 1829, she married her distant cousin who was a barrister in London. She moved to a cottage in Hamstead where the couple had four children. At this time Coleridge wrote Pretty Lessons in Verse for Good Children that proved to be quite popular when it was finally published.

In 1837 the family moved to a house in Regent's Park in London and Coleridge wrote perhaps her most famous work at the time, Phantasmion. The work, including its songs incorporated into the prose, found a certain critical acclaim with prominent individuals such as poet and critic Leigh Hunt.
In 1843, Coleridge's husband died and she herself was unwell, spending the remainder of her life as an invalid. She died in 1852 at the age of only 49 and would have remained in historical obscurity had not the discovery of more of her poetry been made in a Texas university.

The collection contains a number of love poems, aimed not at her husband, but another poet, Aubrey De Vere, as well as one poem that tells us more about her death – three verses that explore her fight against breast cancer in 1852. The other poems include romantic epistles to her husband and entertaining verses for her children as they grew up.
The works also give a greater insight into Coleridge's life, the difficulties her parents had when her father became addicted to opium and the severe depression she herself felt after losing three of her five children to infant mortality. There are some who believed that Coleridge was seen as just an extension of her father's poetry, much of which she edited, but these new works have now set her apart as a poetess in her own right.