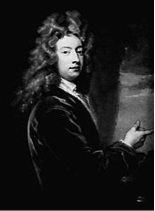 Sir George Etherege was well known as a 17th century English poet and playwright. He wrote light, witty plays such as



which appeared in 1664, and also a typically "Dandy" production of the times,



He was born sometime during the year 1636 in the Berkshire town of Maidenhead. His parents, George and Mary, seem to have been well-connected people, being friends of exiled Queen Henrietta Maria (in France) who they stayed with on a visit there, accompanied by their son. George attended Lord Williams's School, an establishment which still exists today in Thame, Oxfordshire. He may, or may not have gone to Cambridge but evidence suggests that he probably did not. Instead he studied as a lawyer in London at Clement's Inn.
It seems likely that he will have got a taste for comedic theatrical performances after watching some of Molière's early work in Paris and, inspired by the 1660 Restoration in England, he wrote



He wrote it in heroic rhymed verse, and it certainly contains a good number of comic scenes which were enjoyed by audiences when performed at the Duke's Theatre in London. Here is an extract from the play:



Etherege was pleased with how his first play was received but then concentrated on poetry, garnering a name of "poetical beau". He associated with others of his ilk, such as Sir Charles Sedley and Lord Rochester, who often referred to him as "gentle George" or "easy Etheredge." The year 1668 saw him pen another comedy. It was a spirited production though some considered it immoral. The flirtatious nature of the female lead was a reflection of the times and the author's reputation as a major writer was established with this production.
A number of years passed between this and his next play as he spent some time abroad, this time in Constantinople where he acted as Secretary to Sir Daniel Harvey, the English Ambassador there. But then, in 1676,



was performed and distributed and this became known as the foremost English "comedy of manners" of the time. Etherege did not specifically identify any real people in the play but many were recognised within the characterisations, and the author was not afraid to satirise and gently mock them.
He became Sir George Etherege sometime during the late 1670s and he had, by then settled down to a life of ease, gambling away much of the fortune he had gathered through his writing. Perhaps in an attempt to avoid insolvency he married a wealthy widow. There was one more period of public duty where he served as resident minister for 3½ years in Regensburg. Following that he went to Paris where he served the exiled James II for a while.
The name of George Etherege is certainly established amongst the great Restoration comedy writers, alongside the likes of Sheridan and Congreve. His gentle portrayals of the dandies, beaux and fops of 17th century England are extremely well thought of and he was known as an elegant man regarding his own appearance, and the way that he presented the lives of the fine ladies and gentlemen of London.
Sir George Etherege died in Paris on the 10th May 1692 at the age of 56.