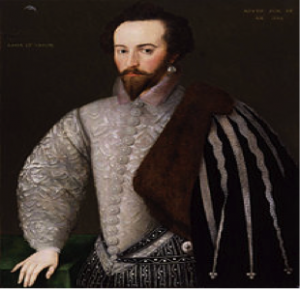 Sir Walter Raleigh, featured in the BBC's poll of 100 Greatest Britons in 2002, was best known for introducing the potato and tobacco to Britain. This has not been proven, though he did do much to promote the popularity of pipe smoking at the court of Queen Elizabeth the First.
Born around 1552 in Devon, England, the product of his father Walter's third marriage to Catherine, he grew up to become England's best known adventurer- navigator and favourite courtier of Queen Elizabeth. What is less well known is that he was also an author and poet, producing 33 poems that we know of, though many of his writings are thought to have been destroyed. As befitting his gentrified background he briefly attended Oxford University and later studied law in London. He was destined never to pursue a career in law however. In 1569 he fought against the Spanish with the Huguenots in France. When in 1580 he went to Ireland to help suppress an uprising in the Munster region his exploits brought him to the Queen's attention who awarded him extensive land estates confiscated from Irish people. He was knighted by the Queen in 1587 and he went on to serve as a Member of Parliament.
Raleigh's overseas adventuring had begun in 1578 when he sailed with his half-brother Sir Humphrey Gilbert to try and fulfil an undertaking to colonise America, once again in conflict with the Spanish. However after losing a ship in the Atlantic they were forced back to England. Although Gilbert was reduced to poverty by these unsuccessful events Raleigh set about making his fortune, which his ruthless adventures, again in Ireland, provided. From this point on he became a favourite at the Queen's court in England where he ingratiated himself with the Queen's favourite noblemen. During his time at court the famous tale came about that Raleigh laid his cloak over a puddle of water so Her Majesty could cross without wetting her feet. It is uncertain whether this story is true but without doubt he was richly rewarded by the Queen with a payment of £600 and command of a company as a pension. In 1585 he renewed his attempt to colonise America and he sponsored the first English colony at Roanoke Island in what is now North Carolina but which Raleigh named Virginia in honour of the Virgin Queen Elizabeth. But this colony and a second later colony failed due to financial constraints, as these voyages were mostly self-funded.
Raleigh fell dramatically out of the Queen's favour in 1592 when she discovered he had secretly married Elizabeth Throckmorton one of the queens own maids of honor. He and his bride were thrown into the Tower. When he was released, in order to attempt to win over the Queen, he vowed to find the mythical land of gold, El Dorado but of course failed in his endeavour.
After the Queen's death Raleigh was again imprisoned by King James the First who did not like Raleigh and accused him of scheming against the monarchy. Interned once again, during his twelve year imprisonment he wrote his book which he titled History of the World, in 1614. His poetry, written intermittently throughout his life, was said to be plain and straightforward, illustrating his take on real events and covered themes like love and loss. His poem The Lie tells of his distrust of the corruption and falsity he perceived to be all around:
Two years after writing History of the World Raleigh made a second, unsuccessful endeavour to find El Dorado during which he displeased the King by assailing the Spanish once again in contradiction of the King's wishes. For this he was executed when he returned to England. He showed no fear of his impending beheading, saying to the executioner: