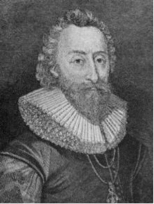 Sir William Alexander, also known as the 1st Earl of Stirling, was a Scottish poet, statesman and royal courtier. A significant public achievement was to be involved in the process that colonised the Canadian town of Port Royal in Nova Scotia and Long Island, New York during the 17th century.
He was born around the year 1567 in Menstrie, Clackmannanshire. Little is recorded about his early life but it is known that his family had noble connections that enabled William to secure the engagement of tutor to the Earl of Argyll and he was fortunate that this involved some overseas travel. Later on he was appointed to a Gentleman Usher position at the royal court of Scotland, attending on Prince Charles, later to become Charles I of England. As a learned man and accomplished writer, he was able to assist his king with a metrical version of a piece of work called The Psalms of King David, translated by King James. It was published by the authority of Charles I.
For his efforts he was knighted by James in 1609 and he effectively became the king's private secretary. Six years later he was elected to the Scottish Privy Council. The newly colonised lands of Nova Scotia enabled Sir William to take up an appointment as mayor of a huge area of land. Alas, it was not a successful venture and cost him dearly in the purse. In 1626 he became Secretary for Scotland, a senior post that he retained until he died. His public service in both Nova Scotia and the American colony of Long Island were further rewarded by King Charles with the title Viscount of Stirling, followed by Earl of Stirling.
Besides all that he was an accomplished poet, much praised in both Scotland and England. His first work was published under the title Aurora in 1604 and he followed this, the same year, with The Monarchick Tragedies. It is widely accepted though that his greatest work was an epic poem describing how the world might end, called Doomes-Day. It's first edition was four books long, published in1614, with a second coming out in 1637 and even longer at twelve books. It was an ambitious "history of the world" which describes the people and creatures that have inhabited it so far and ending with suggestions of who might be at the Final Judgement. In producing this epic work, Alexander certainly borrowed from the ideas of Guillaume de Salluste Du Bartas, a French Protestant poet. Here is the first verse of the poem: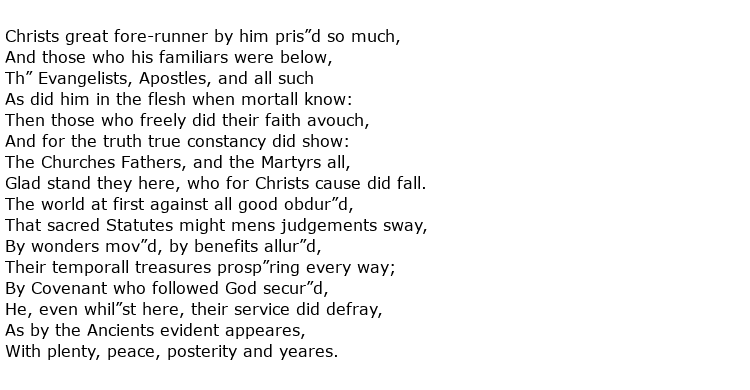 His next project may have been a collaboration with James VI on a new paraphrase of the Psalms. He also wrote a critical book on the work of other writers called Anacrisis: Or a Censure of some Poets Ancient and Modern, which came out around 1635. His aim was to highlight the pleasure that can be gained from good literature. A section of the book includes the following passage which illustrates this thought:



Sir William Alexander died on the 12th September 1640, at the age of 73.