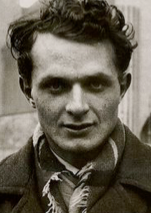 The English poet who eventually became known as Sir Stephen Spender, CBE was a writer whose main themes concerned social problems and the class struggles found in both Europe and America.  He also wrote novels and essays and became Poet Laureate to the United States in 1965.
He was born Stephen Harold Spender on the 28th February 1909 in Kensington, West London.  His father was a journalist and his mother, Violet Hilda Schuster, a poet and artist.  His education was a little patchy, with attendance at three different establishments before he found one that he liked.  He called this last one, the University College School in Hampstead, "that gentlest of schools".  He was then sent to France to complete his education in Nantes and Lausanne before returning to England to study at University College, Oxford.  His time there did not lead to the award of a degree and it was reported later in his life that he had never actually passed an examination anywhere.
He made useful literary contacts though at Oxford including the American novelist Christopher Isherwood, a man introduced to Spender by W H Auden.  Through Auden he came into contact with the likes of Raymond Chandler, Dylan Thomas, Allen Ginsberg and Jean-Paul Sartre, plus many more who would become famous in their respective fields.  He also fell in with the Bloomsbury Group which included Virginia Woolf so it was clear that Spender himself had sights on becoming a famous writer.  He was spending a great deal of time in 1920s Germany and began a novel in 1929 called The Temple which gave the first indications of his bi-sexuality.  The story was of a young Englishman finding freedom of expression in another country and a more liberal sexual attitude.  How things would change as the National Socialist movement grew there.
Throughout his life Spender appeared to be homosexual and heterosexual at different times, having intimate relationships with both men and women.  A suggestion of his tendencies towards the appreciation of the male form is evident in his poem The Labourer In The Vineyard, a clear celebration of the young, tanned man on a hillside tending his grapes.  Here is the poem: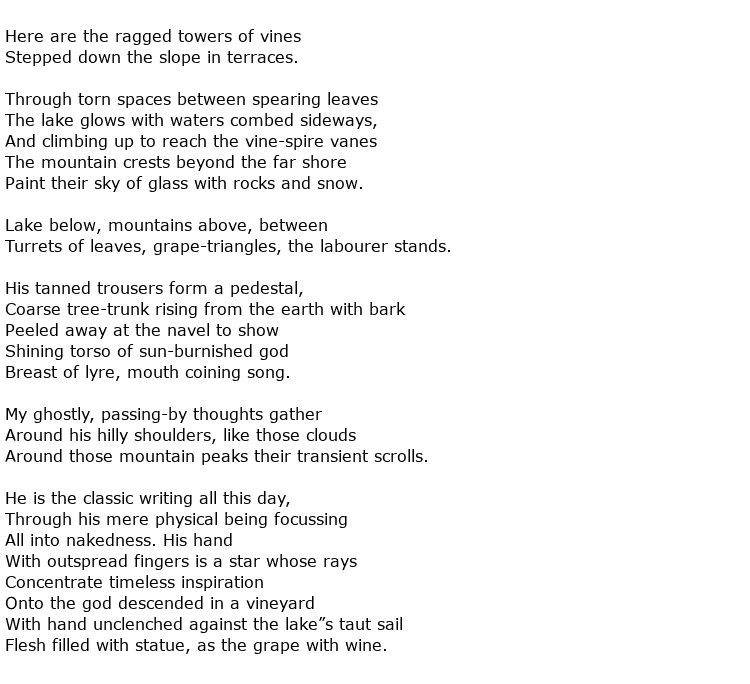 A collection called Poems came out in 1933 and this was the first indication of his socialist politics.  He was based in Vienna at the time and he followed this with various pieces in praise of the rise of socialists in Austria, and quite definitely anti-fascist.  He joined the British Communist Party in 1936 and was an observer at the Spanish Civil War the following year, meeting Ernest Hemmingway in Valencia.  He was back in England the following year.
As the 1940s wore on he fell out of love with communism and wrote essays attacking it.  He was, like other left-wing writers of that time, appalled by the apparent coalition between Hitler and Stalin.  After the war he went to America a number of times and was the editor of a magazine called Encounter between 1953 and 1966 until it emerged that the publication was CIA-funded.  He continued writing and also did some teaching in both America and England.  He was a professor of poetry on both sides of the Atlantic.
Spender won many honours and awards throughout his lifetime but the primary honours that he enjoyed were the CBE that was part of the 1962 Queen's Birthday Honours list and then his knighthood which came in 1983.
Sir Stephen Spender, CBE suffered a heart attack and died on the 16th July 1995 at the age of 86.