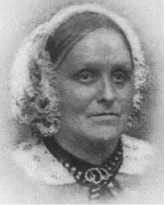 Susanna Strickland Moodie was a 19th century Canadian poet and journal writer who wrote extensively about her experiences as an English settler in British colonial Canada. She also wrote for children and took an active interest in the anti-slavery movement in London before emigrating.
She was born Susanna Strickland on the 6th December 1803 in a small Suffolk town called Bungay. It was a literary family and Susanna was the youngest of future author sisters including Jane Margaret Strickland and Agnes Strickland. She had her first children's book published in 1822. Encouraged by the anti-slave campaigner Thomas Pringle, she transcribed the story of a former slave called Mary Prince who had been born into slavery in the Caribbean. This was the first account written by a black woman and caused a tremendous stir in London society.
Susanna was married in 1831 to a former army officer by the name of John Moodie and, the following year (already with child), the family emigrated to what was then known as the Province of Upper Canada. It was a tough, farming environment and this still genteel, middle class English woman called it "the bush". She studied local culture and customs, and the native people, writing about what she saw. When it came, she suffered during the inevitable economic depression.
A change of environment came in 1840 when they moved to Belleville and she called this "the clearings". She studied the local politics of the time which was referred to as the "Family Compact", this being a group of men who controlled the local economy and judiciary at that time.
Remembering her time spent on the farm during the 1830s, Moodie published an account called Roughing it in the Bush in 1852. A year later she wrote a similar account, only this time it was comparing the bush with the clearings, and she called it Life in the Clearings Versus the Bush. Life was never easy, particularly after the death of her husband, but she remained in Belleville and lived long enough to experience the changes brought about by the Canadian Confederation which, of course, established the Dominion of Canada and threw out British rule.
Her book about living in the bush was seen as an immigrant's guide to living in Canada. Some publications will have painted a rosy picture of a wonderful land of opportunity and wealth. Moodie told the story in a more honest, down to earth manner and it was certainly an excellent guide to life in the colony for well-to-do ladies, such as she had been, to take careful note of.
Moodie wrote a number of poems as well as her journals. The Dying Hunter to his Dog tells the tale of a man who knows his time is up who tries to get his faithful hound to lie down with him until the end comes. He knows though that the dog still has life in him and will give similar service to a new master. Here are the first two verses of this poem: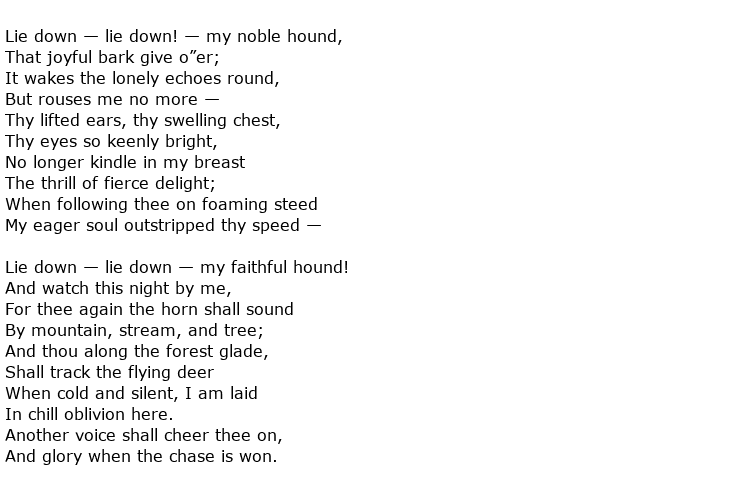 Fellow Canadian poet Margaret Atwood paid tribute to her with the publication in 1970 of a collection called The Journals of Susanna Moodie. In 2003 the Canadian government honoured her memory by including her face on a commemorative stamp.
Susanna Strickland Moodie died on the 8th April 1885 in Toronto. She was aged 81 and was laid to rest in Belleville Cemetery.