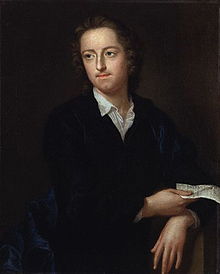 Born in 1716 in London, Thomas Gray was a poet and professor who is perhaps most well-known for the poem Elegy Written in a Country Churchyard that was inspired by the sudden passing of his poet friend Richard West. Gray was from a large family of 12 but was the only one to survive, his father suffered from mental illness, and he spent most of his youth with his mother.
Gray attended Eton, was a devout scholar who wasn't interested in sport but found a deep joy in studying science and botany in particular. 1734 saw him in Cambridge, although he didn't much care for the studies, preferring to spend his time reading and playing music. It was there that he made friends with Horace Walpole who would later help him get published.
After the death of his friend and poet Richard West, Gray began to write poetry in earnest, and he would spend a good deal of the rest of his life living the life of a scholar at Cambridge, his head buried in a book. He was often regarded in that respect as one of the highest intellectuals in the country. Although not particularly productive, he was offered, and turned down, the post of poet laureate in 1757.
Because of the morose nature of some of his poetry, Gray, along with other poets, including Cowper and Goldsmith, became known as one of the Graveyard Poets or Boneyard Boys. He started writing Elegy Written in a Country Churchyard in 1742 but left it unfinished for a number of years before completing it in 1750. When it was published a year later it was instantly successful and has been one of the staples of poetry classic collections ever since.

Exploring death and what happens after, Elegy was a precursor of the Gothic era and follows a poet narrator who is sitting in a graveyard, initially describing the surroundings and then turning to deeper thoughts of mortality and the inevitable fate that we all face. The influence of Gray's work, particularly Elegy, can be seen both in the 19th Century and well into more modern times.
Although he is best remembered for that poem alone, Gray actually considered The Progress of Poesy and The Bard amongst his best work. Throughout his life, he liked to travel through the British countryside exploring its ancient history and bringing it to life in his poetry. When he toured the English lakes he produced his descriptions in the collection The Poems of Mr Gray in 1775. Scholars have wondered over the last two hundred years or so why Gray never actually wrote more works, even though he was considered the premier poet of the time amongst his contemporaries.

In 1768, Gray's scholastic endeavors led to him being offered the post of professor of modern history at Cambridge, a position that he held for just three years. In 1771, he fell ill whilst at a dinner at the college and died a week later at the age of 30. He was buried in the graveyard at Stoke Poges where he first began to write the Elegy.