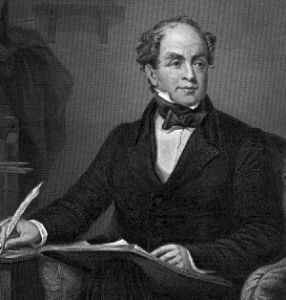 Irish balladeer, singer, and poet Thomas Moore gained fame in the first half of the nineteenth century both as a poet and as a society figure whose scandalous behavior may have overshadowed his talents.
Thomas Moore was born in 1779 in Dublin, Ireland, over his father"s grocery business. Moore was one of the first Catholic students allowed entry to Trinity College in London, where he studied law.
Moore"s 1803 appointment to registrar of the Admiralty in Bermuda brought him success in London society. His travels in North America were the inspiration for his first book, and upon his return to England, he married an actress, Elizabeth Dyke. As a frequent guest to London"s society gatherings, Moore gained a reputation for his singing of ballads and recitations of poetry.
Although his writing and his position provided him a good income, Moore"s attempts to live the same lifestyle as his aristocratic friends resulted in his incurring excessive debts. An accusation of embezzlement in his appointment forced him to leave England in 1819. While in Paris, he became friends with George Gordon, Lord Byron, and became Byron"s literary executor upon the poet"s death. Moore"s decision, along with Byron"s family, to destroy the infamous poet"s explicit memoirs, later did damage to Moore"s own literary reputation.
Moore returned to England after his debts were repaid, settling in Wiltshire. His poetry continued to be successful, and Moore also worked as a novelist, biographer, and translator of poetry. He published frequently, both in his own books and in the journals of the day. His reputation grew immensely upon the publication of his collection of Irish ballads, Moore"s Irish Melodies (commonly known as Moore"s Melodies) in 1846 and 1852. It is this collection that brought him renown throughout England as the Irish Bard.
However, Moore"s life after his return was one of tragedy; all five of his children died young, and Moore himself suffered a stroke which left him unable to perform, a talent that had brought him fame throughout England. Moore died in 1852, at the height of his literary fame. Although Moore spent most of his working years abroad, he is considered Ireland"s bard.
Despite his wide-ranging works, Thomas Moore is known to modern audiences primarily as an Irish balladeer. His best-known works are in the ballad genre, and include ballads that are known today as Irish standards.
Some of Moore"s works include:
Believe Me, If All Those Endearing Young Charms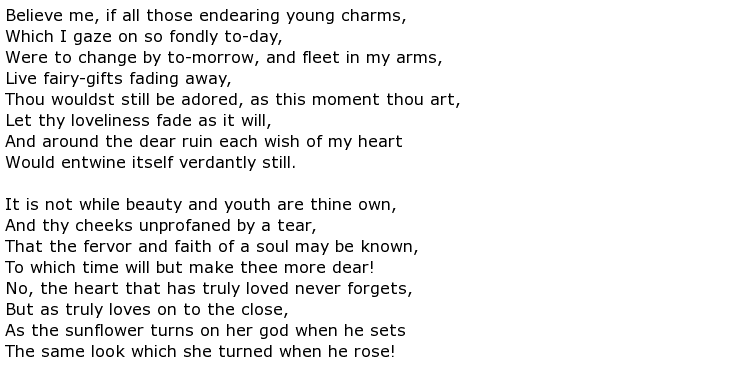 The Last Rose of Summer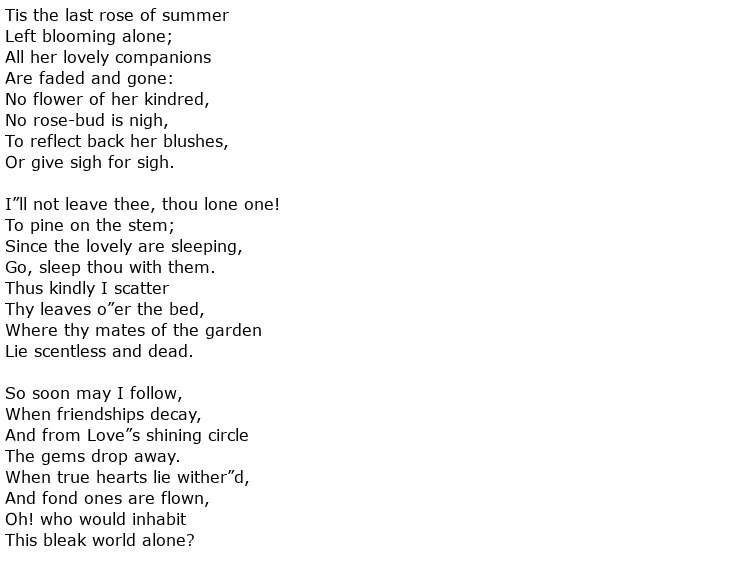 They Know Not My Heart