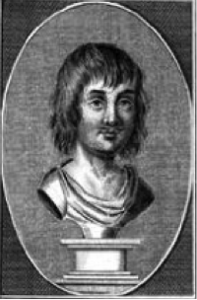 Thomas Randolph was a popular 17th century English poet and playwright whose humorous work was much admired by the famous writer and literary critic Ben Jonson.
He was born on the 15th June 1605 in the Northamptonshire village of Newnham, close to Daventry. He lost his mother at the age of eight having just given birth to Thomas's sister. By the time his father had remarried the family had increased in numbers to seven children, including those born of his step mother.
Young Thomas was obviously a bright child and was sent to school under a King's Scholarship at the College of St. Peter, an establishment now known as the Westminster School, located in the grounds of the Abbey. At the age of 18 he went on from there to Trinity College, Cambridge where he gained a BA after four years study. Three years later he was awarded a Masters' degree and a fellowship of the college that same year.
He had begun writing before going to Westminster although the epitaphs about close family friends were not published at the time. At Cambridge though he contributed to a collection of poetry that was a celebration of the marriage of King Charles to Princess Henrietta Maria. His first play was shown privately at Cambridge in 1626 under the title Aristippus or The Jovial Philosopher.
He also took it upon himself to revive the ancient tradition of "Saltings", a college custom that had died out some time before. This was an initiation ceremony where freshmen were formally welcomed into college life and took place at both Oxford and Cambridge universities. It was a practice that did not survive for long though although another was staged the following year by John Milton.
Randolph had a talent for writing humorous plays and no less a critic than Ben Jonson adopted him as one of his literary "sons". He dedicated three pieces of work to his new "father" including one about the failure of Jonson's doomed hostelry venture called The New Inn. His popularity as a writer was well established and many believed that Randolph would surely succeed Jonson as Poet Laureate. Tragically he was to die at the young age of only 29 so he never got the opportunity to enjoy that honour. Jonson survived him by two years.
Other work produced for the amusement of Cambridge students included a monologue called The Conceited Pedlar, a character who grandly describes himself as:



Another was performed in front of the king and queen in 1632, the students playing out The Jealous Lovers. Despite the writer's short lifespan, there were many others, mostly comedies. He also produced a piece of work containing a number of Latin and English poems called Amyntas, or The Impossible Dowry in 1638.
When the bibliographer and editor William Carew Hazlitt published Randolph's collected works in 1875 he described him as 'one of the most delightful lyric and dramatic poets of his age'. Here is an example of this poetry, a charming piece called Fairy Song: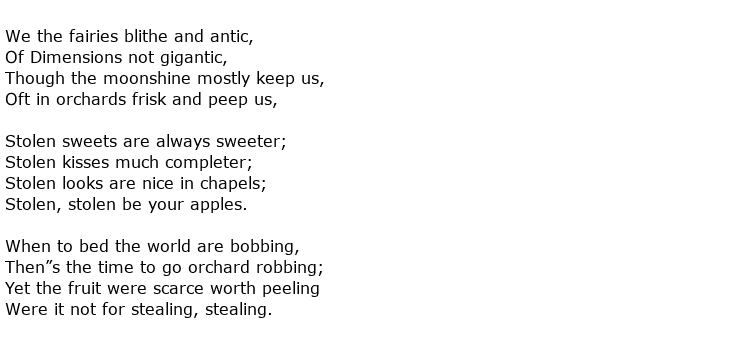 After his time at Cambridge, he lived at Little Houghton with his father for a time and then close by in the Northamptonshire village of Blatherwycke and it was here that he lived out the final days of his tragically short life.
Thomas Randolph died in March 1635 at the age of 29.