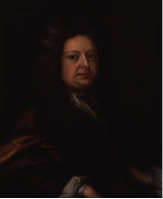 Thomas Shadwell was a 17th century English poet and playwright. His efforts as a writer earned him the coveted title of Poet Laureate in 1689 and he was also appointed historiographer royal.
He was born some time during the year 1642 into comfortable family circumstances. His home was Stanton Hall in Norfolk and his family sent him to be educated at Bury St Edmunds School. From there he went on to Gonville and Caius College, Cambridge in 1656. Alas he left Cambridge before completing his degree course and decided to pursue a career as a lawyer, joining the Middle Temple chambers in London as a student.
It seems that he did not pursue these studies to completion either as he concentrated for the rest of his life on Whig politics and writing. After the restoration of the Monarchy he became a favoured member of court, amusing all with his wit, and he was often heard reciting his poetry and making satirical jokes about fellow writers. He had several disagreements with John Dryden who lampooned Shadwell in his own writing.
Shadwell's comic plays included The Sullen Lovers, or the Impertinents, produced in 1688, and this mirrored works by Ben Jonson and Molière. There were many others – virtually one every year, in fact. His output totalled some eighteen plays including a pastoral piece called The Royal Shepherdess, produced in 1669. In stark contrast though was a play called The Lancashire Witches which, in 1679, caused a fair amount of offence in religious circles, containing elements of antipapist propaganda. The Anglican clergy considered it a direct attack on their faith.
Many of his other plays had a great deal of bawdy humour in them but they could also be described as accurate portrayals of contemporary manners. His work was appreciated by many but he had made an enemy of Dryden who seemed to take great exception to his habit of repeating a point time and again, hoping that eventually what he said might be accepted as the truth. Dryden called him the "last great prophet of tautology" and delivered the following line in one his plays:



The two had once been good friends but each attacked the other with satirical, and sometimes scurrilous, remarks contained within their various pieces of work. Another example appeared in a play called Absalom and Achitophel where Dryden made the following cutting references to both Shadwell and another poet called Elkanah Settle:



Perhaps Shadwell will have had a wry smile to himself when he superseded Dryden as Poet Laureate and historiographer royal following the "Glorious Revolution" (1688-89). His poetry, perhaps in contrast to some of the more stinging lines found in some of his plays, was often written in a light, lyrical tone. One piece was set to music and the song is still sung by children and choirs to this day. It is called Nymphs and Shepherds and is reproduced here:



On becoming poet laureate, Shadwell introduced the concept of New Year and birthday odes. He did not have long to enjoy this appointment though.
Thomas Shadwell died at Chelsea on the 19th November 1692, aged 50.