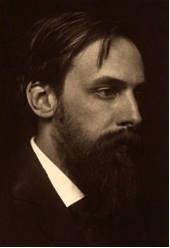 Thomas Sturge Moore was an English writer whose poetry output was considerable but he also wrote a number of plays, the first of which was staged in 1901 and was described as "powerful with a beautiful constrained passion" by the famous Irish writer W B Yeats. Moore was also an accomplished artist and wood-engraver and his artistic designs can be found on the covers of many of Yeats's books as well as those of other poets.
He was born on the 4th March 1870 in the south coastal town of Hastings, Sussex. His parents sent him to Dulwich College, an independent boys' public school in South London, and it was clear from an early age that he had artistic and literary talents. From Dulwich he moved on to the Croydon School of Art and finally, back to London, at the Lambeth School of Art. He devoted much of his time to writing though and forged a long-term friendship with Yeats. The Irishman described Moore as



His style of writing was very much of a serious nature. According to the poet and critic Yvor Winters, Moore often adopted a "severely classical tone". Subjects touched on included art and morality and he was certainly a prolific writer judging by the amount of work that has survived. In 1893 he had a pamphlet called Two Poems published privately and it was not until six years later that his first collection of poems was published under the title The Vinedresser.
Here is an example of Moore's moralistic tone in poetry. The first four verses follow of a poem called Idleness where the author rebukes himself for idling his time away and compares his sloth to that of the hard working shepherd: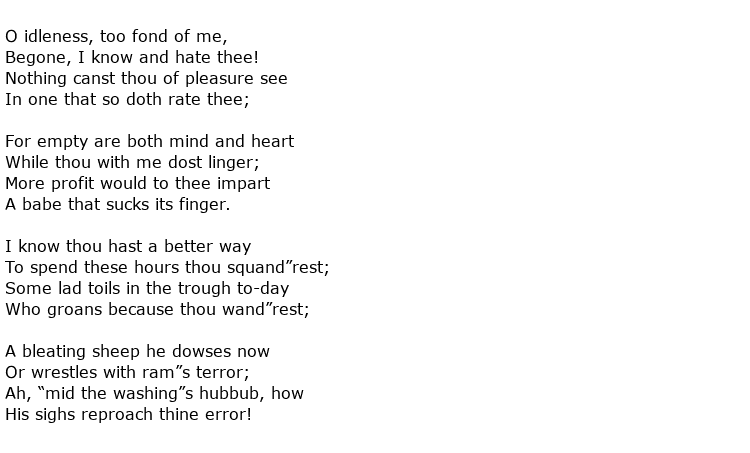 He joined the Poetry Recital Society, a new group formed in 1909 by Lady Margaret Sackville, which attracted writers and lovers of poetry alike. The name of the organisation was changed to the Poetry Society after three years and it still exists today.
Moore was also deeply interested in the theatre and his writing of plays was influenced by both the Japanese Noh style and the productions of W B Yeats. He had many friends in the literary world and together with the likes of Laurence Binyon, Sybil Pye and Yeats, among others, they formed the Literary Theatre Club in 1901. Moore found the time to compose at least thirty one plays.
From an early age he had decided to use his middle name so as not to be confused by another poet called Thomas Moore. Sturge was his mother's maiden name. He married a Swiss lady called Marie Appia in 1903 and they had two children together. His brother George Edward Moore was a philosopher belonging to the famous "Bloomsbury Set" of writers, artists and philosophers which was active during the first half of the 20th century.
Although Moore was a popular and prolific poet during his lifetime he had very little formal recognition of his efforts although, in 1930, he was considered for the post of Poet Laureate along with six others. He was already in receipt of a civil list pension which commenced in 1920 so at least, in some respects, he had some royal recognition of his literary efforts.
In later life his health deteriorated badly and he had several heart attacks between 1942 and 1943. In 1944 he had to have a prostate operation and, as a result, he developed a kidney infection while recovering at a convalescent home near Windsor in Berkshire. This infection proved too much for his already frail constitution.
Thomas Sturge Moore died on the 18th July 1944 at the age of 74.