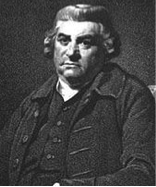 Thomas Warton was one of the so-called "Graveyard Poets" of the English 18th century. His often mournful style, as evidenced in his poem



confirms this assertion. Additionally he was a literary critic, historian and rector of a small parish in Oxfordshire called Kiddington. He is often referred to as the younger, thus distinguishing him from Thomas Warton elder who was his father. His skill as a poet earned him the accolade of Poet Laureate, an honour that he held during the last five years of his life.
He was born on the 9th January 1728 in the Hampshire town of Basingstoke. His father, being an established poet himself, encouraged Thomas to write and it was clear from an early age that he had a prodigious talent. Remarkably he studied an epigram from the ancient Roman poet Marcus Valerius Martialis and translated it into English when he was only nine years old. By seventeen he had composed what would become known as his most famous poem



Thomas was educated initially by Thomas Warton elder before going on to Winchester College, and then Trinity College in Oxford. At nineteen he left Oxford after graduation and eventually was named a Fellow of the college. He was made Oxford Poet Laureate in 1747, and also the following year. He was certainly highly thought of by the university and he held the post of Professor of Poetry for 10 years from 1757 onwards. He also had a career in the church, filling the post of rector at Kiddington from 1771 until he died 19 years later.
Warton was very well thought of in poetry circles and was a good friend to Samuel Johnson, amongst other well-known writers. His own output was substantial but he was a great admirer of other poets including Geoffrey Chaucer and one of the great metaphysical poets, Thomas Gray. He produced a number of historical studies such as one on the ancient Greek writer, Theocritus and, in 1782, he produced an



He established his reputation as a notable literary historian with a three-part



Some critics have pointed out the odd inaccuracy but it was, nevertheless, considered an important piece of historical work.
Never forgetting the wonderful times he spent at Oxford, Warton wrote a tribute poem to the university and it's students called


This was published in 1749 and was a direct riposte to a similar piece of work called Isis, written the year before by William Mason, who offered a very unflattering view of Oxford and its great traditions.
Some of Warton's own poetry is often described as light an humorous, especially his sonnets and odes, while other examples of his work fit the "Graveyard Poet" label very well. Here is something in between, a serious piece called Written at Stonehenge where the writer attempts to explain the mystery of this great monument. Many others had attempted to unravel the mystery of this place before him, and historians and archaeologists are still doing so. Here is the poem: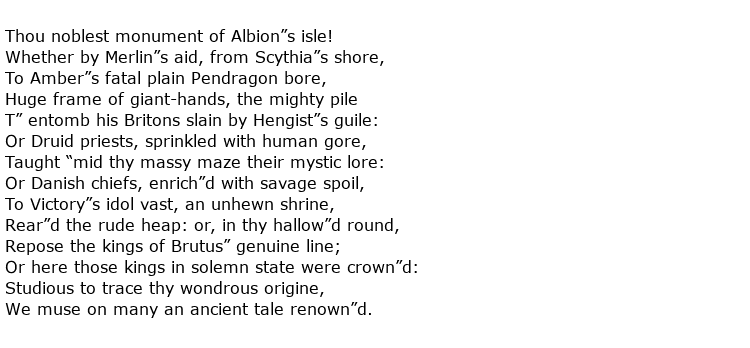 Between the years 1785-90 Thomas Warton held the post of Poet Laureate of England and this was only relinquished on his death, on the 21st May 1790. He was 62 years old.