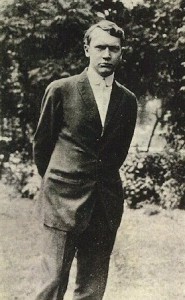 American Vachel Lindsay was most well-known for writing poetry that could be sung and was involved most of his in trying to revive the musical quality of verse. He was born in 1879 in Illinois and went on to become one of the most well-known poets of the early part of the 20th Century.
Raised in Springfield in a well to do family, Lindsay was greatly influenced by his surroundings and on numerous occasions included mention of his home town in poetry. Like his father, he went to study medicine at college though he never really wanted to be a doctor. He actually wanted to be a painter and went against his family's wishes and moved to Chicago to study at the Art Institute there.
It wasn't until 1905 that he began to seriously explore poetry. Lindsay was in New York at the time and like many poets of the time started off by trying to sell his verses, printing them out himself and standing on street corners. He was famous later for walking almost 600 miles to Kentucky, selling his poetry in exchange for food and somewhere to lay his head for the night.
It was something that he did constantly over the next 7 years. When he wrote one of his most famous poems, The Congo, he earned so much money that he couldn't carry it around with him on his travels and had to post it home. Lindsay was as much a performance artist as a poet and seriously wanted to return verse back to its musical form, the way it was meant to be performed in Classical Greece.

In 1910 he began to gain some notoriety and was given support by editor Harriet Munroe who had helped other writers such as Carl Sandburg and Ezra Pound. It would lead Lindsay to being connected to the poet W. B. Yeats and invited to perform for the President of the United States, Woodrow Wilson.
His poetical journeys became front page news for many of the country's newspapers. Recordings of Lindsay still exist and exhibit an almost hysterical, violent delivery that is at times incomprehensible. His later works also showed a concern for the plight of African-Americans with poems such as The Jazz Birds which he wrote and performed in 1918 praised their part in Great War.
Despite his popularity, Lindsay offered suffered financial hardship and was also unlucky in his relationships. In 1914 he hoped to marry another poet, Sara Teasdale, but his advances were spurned and he spent most of his life as a single man. In 1928 he married a woman 20 years younger than himself but had to work long, hard hours to afford to keep his new family.

He received a lifetime award from Poetry Magazine which came with a prize of $500 and published a couple of works of poetry including Every Soul a Circus. The Great Depression though made things hard and Lindsay struggled to make ends meet. Lack of money and poor health sent him spiraling into despair in 1931 and he took a bottle of cleaning fluid which killed him. Vachel Lindsay was 52 at the time.