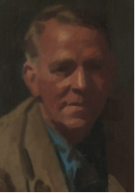 Vance Palmer was an Australia-born poet, playwright, novelist, essayist and radio broadcaster who wrote a number of politically-themed pieces on Australian nationalism and worldwide fascism. He was also a leading literary critic, contributing many articles to various magazines and newspapers.
He was born Edward Vivian Palmer on the 28th August 1885 in Bundaberg, Queensland, the son of a school master. He was educated at the Ipswich Grammar School, a famous boarding school, and then attended the Brisbane Arts School to study contemporary Australian writing. With no clear career direction in mind he headed west for the outback where he learned to love and appreciate Aboriginal culture and the landscape while working on cattle stations. He wanted to write though and he made two trips to London during the first decade of the 20th century. He believed that this would enhance his literary skills and possibly set him on the path to becoming an author.
He got married in London in 1914 and he and his new wife, Nettie, decided to return to Australia just as war was breaking out. They were in France at the time and, although he joined up in 1918, it was too late to see any active service. He had been something of a political campaigner during the war years and was very much against the Australian government's policy of conscription. Things settled down quickly though and he and his wife continued to write, as they had been doing for some years, and both pursued it as a full time occupation from the 1920s onwards.
Palmer's first novel came out in 1920 – he followed that with a play four years later which was well received, along with a number of other novels and pieces of work. He had varying levels of success and failure and one piece of work, called The Big Fellow, saw him win a Miles Franklin Award posthumously. During the 1940s he wrote extensively about fascism, both at home and abroad. In 1954 came, arguably, his best piece of work- a study of the nationalist tradition called The Legend of the Nineties.
Like many other writers who had lived at the time of the First World War, Palmer set down his thoughts in poetry and short stories. Although he did not witness the horrors of the front line in France he was still able to write such poignant pieces of work as the following poem, called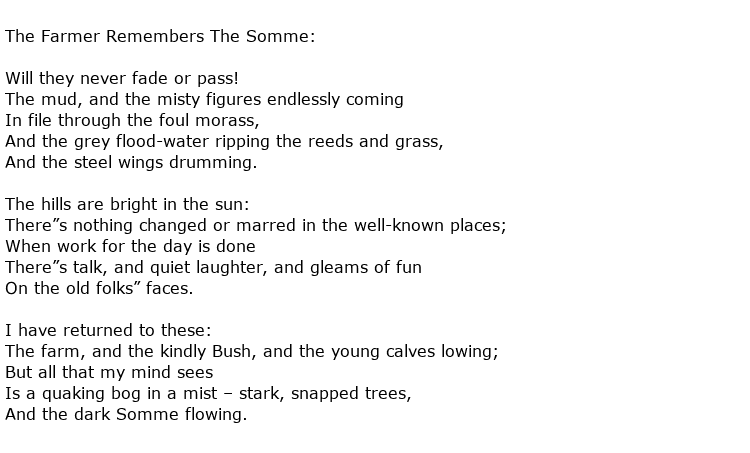 Both Vance and Nettie Palmer worked tirelessly to establish the idea of studying Australian literature in academies throughout the country. He appeared on the A.B.C radio network often, discussing literary matters, promoting both their own work and that of fellow poets and novelists. Their final years together were hard though, both suffering with their health and weighed down by family worries. He continued to work, almost to the end, giving lectures and writing regularly.
Vance Palmer passed away from a heart complaint at home in Melbourne on the 15th July 1959. He was 63 years old.