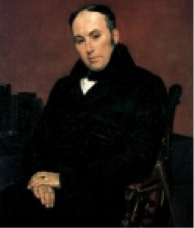 Vasily Zhukovsky was a leading Russian poet during the first half of the 19th century whose skills brought him to the attention of the ruling Romanovs. He was employed as a tutor, firstly teaching Russian to the German-born Grand Duchess Alexandra Feodorovna. Later on he taught her son, the boy who would go on to become Tsar Alexander II. He is famous for translating some of the great Romantic poets into Russian, and some have said that they were all the better for his work. He was credited with bringing the Romantic Movement of literature to Russia.
He was born Vasily Andreyevich Zhukovsky on the 29th January 1783 in a small village in the Tula Governorate of the Russian Empire called Mishenskoe. His father was a landowner and was not married to his mother, their Turkish housekeeper. They sent him to be educated at the Moscow University Noblemen"s Pension where he studied literature. He particularly enjoyed reading examples of English Sentimentalism and also German "Sturm und Drang" proto-Romantic works.
At university he met a famous man of letters called Nikolay Karamzin who was the editor of a well-read literary journal called The Herald of Europe. Zhukovsky's translation of the metaphysical poem by Englishman Thomas Gray – Elegy Written in a Country Churchyard – was published in this journal in 1802. This was such an original piece of work, the like of which had never been seen in Russian literary circles before. Having established his reputation he was invited to become editor of the magazine six years later.
Zhukovsky continued to explore romanticism in all its forms and found much to admire in Hanseatic locations such as Dorpat and Revel, Estonian cities that had recently been absorbed into the Russian Empire. His work was, though, interrupted for a time with the outbreak of the Napoleonic wars which began with the 1812 invasion. He joined the Army but his language skills found him on the general staff of Field Marshal Kutuzov. It was in the ensuing years that he came to the attention of the wife of Grand Duke Nicholas, the future Tsar Nicholas I. He taught her Russian, often using his own translations from Goethe as exercises for the Grand Duchess.
It is generally acknowledged that he could have been a great poet rather than just being a very good one but there is no doubt that his translations stand alone for their quality and style. He is credited with some memorable poetry though, including the lyrics to a song that became the Imperial Russian national anthem God Save the Tsar! Also on the theme of patriotism is his poem A Bard in the Camp of the Russian Warriors which was written as a morale booster while serving on Kutuzov's staff. But other pieces of work were written in a romantic or mystical vein. A good example is the poem The Mysterious Visitor. The opening verses are reproduced here: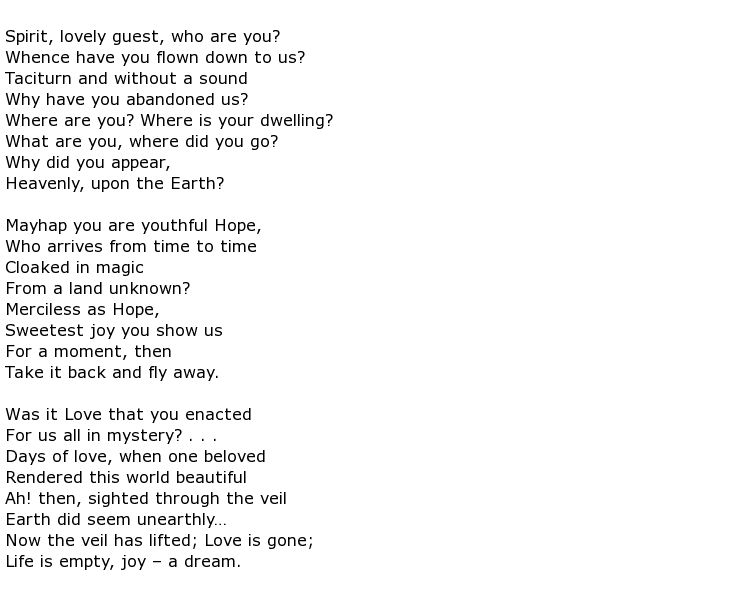 During his later years, no longer part of court life, Zhukovsky turned his attention to translations of Eastern poetry, especially epic Persian pieces. Shortly before his death he also published a Russian version of Homer's Odyssey in 1849.
Vasily Zhukovsky died on the 12th April 1852 at the age of 79.