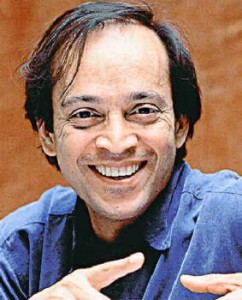 A contemporary novelist and poet, Vikram Seth spent his early years in India and London, graduating from the prestigious Corpus Christi College, Oxford.  He went on to further studies at Stanford University where he achieved a master's degree (economics) in 1978, following this up with some post-graduate study at Nanking University in China.  After Nanking he embarked on the long journey home to New Delhi, hitch hiking all the way and passing through Tibet.  He made notes as he travelled and an amusing travelogue book called From Heaven Lake (1983) was the result, which turned out to be his first successful foray into published writing. 
A novel that was based on Charles Johnston's translation of Aleksandr Pushkin's Eugene Onegin was published in 1986.  Seth carefully wrote this novel entirely in verse, in metred, rhyming fourteen-line stanzas. The Golden Gate attracted much acclaim and was an interesting take on the popular culture to be found in California's Silicon Valley.  Although contemporary themes were discussed it was styled in a very challenging 19th century format.  The characters in the book, all young professionals, discuss burning issues of the time such as overwork, nuclear weapons around the world and Roman Catholic philosophies on homosexuality.
Even more success followed with his novel A Suitable Boy (1993).  Written in epic style this was the tale of the lives and relationships between four separate Indian families, set in the post-independence years. It was written in such a compelling style that critics compared it to works by Leo Tolstoy and Charles Dickens.  Inspired by the success of this novel Vikram is working on a follow-up story which will be called A Suitable Girl and is due to be released in 2016.
His literary output has attracted a number of awards such as Padma Shri, Pravasi Bharatiya Samman and, in 1994, A Suitable Boy was judged Best Book in a Commonwealth Writers competition.  Undoubtedly a talented writer Vikram continued to combine poetic structures with prose in such publications as Beastly Tales from Here and There (1992). This was a collection of ten stories written in tetrametered couplets. This is a complex structure in poetry and one that cannot be mastered easily.Looking at his poetry collections, his very first volume was published in 1980 and entitled Mappings.  All the work in this collection was completed during Vikram's student days in England and California and contains poems constructed in rhyming couplets.  The title poem 'Mappings' reflects on his different selves revealed in earlier writings.  Further strictly controlled poetic form collections followed:  in 1990 there was the collection All You Who Sleep Tonight and five years later the simply titled The Poems, covering work composed between 1981 and 1994. In total there have been six published collections of poetry in all. Here's an example of Seth's style of poetry – 'Around and Around'.  It's a simple tale about a baggage carousel at an airport, in his trademark rhyming couplet style:

Vikram Seth divides his time nowadays between his parent's home in Delhi – the place where he maintains an extensive library and collection of papers – and a restored house near Salisbury in England which, interestingly, was once the home of the Anglican poet George Herbert.