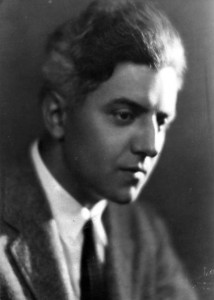 Vincent Starrett was a writer and journalist who was born in Toronto in 1886 and was perhaps more famous for his detective fiction, a talent he often attributed to living the first part of his life above a bookshop owned by his grandfather. When Starrett was young, the family moved from Canada to the US where they settled in Chicago, a city he would live in for the rest of his days.
His education began at John Marshall High School but it wasn't long before the young Starrett developed a love of writing. In 1905, at the age of just nineteen, he began working as a reporter for one of the lesser known Chicago newspapers, Inter-Ocean. Though the paper fell into financial difficulties and closed a few years later, it set Starrett on the journalistic path and landed him a job with the more substantial Chicago Daily News where he got a post reporting on crime.
By 1914 he had moved to war reporting and spent some time in Mexico as a correspondent. In his thirties Starrett began writing detective fiction, publishing his stories in the numerous pulp magazines that were around at the time. He was a huge fan of Sherlock Holmes and would often bring the fictional detective into his own work, sometimes with great success.

His first published book was The Adventure of the Unique Hamlet of which only a few copies were printed and not many survive to this day. In 1933, however, he published his most memorable work, The Private Life of Sherlock Holmes and received some notoriety for his literary efforts. Detective stories were not his only subject matter though – Starrett wrote a number of science fiction stories that were first seen in magazines such as Weird Tales.
One of his few collections of poetry was published in 1943 under the title Autolycus in Limbo and it is perhaps logical that one of his verses is about his hero Sherlock Holmes. 221b is a tribute to Arthur Conan Doyle's creation and contains all the mystery and atmosphere that you would hope to find in one of the original stories.

Starrett had a long and successful career as a newspaper man and writer and retired from the Chicago Tribune in 1967 where he had been producing a daily column for 25 years. In his private life he helped to establish the Sherlock Holmes club in Chicago who would meet regularly to discuss all manner of things about the detective and are, considered an offshoot of the literary group the Baker Street Irregulars set up by Christopher Morley and Rex Stout in the forties.
Starrett remained in Chicago, an ardent fan of Sherlock Holmes to the end. He died just a few years after his retirement in 1974 at the age of 87.