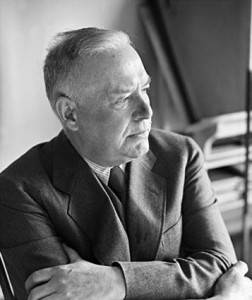 Born in Pennsylvania in 1879, American Wallace Stevens was an insurance executive turned poet and writer who won the Pulitzer in 1955. He went to public school and fell in love with the classics in Greek and Latin. He originally trained as a lawyer, attending Harvard initially and then a law school in New York. In his early twenties, Stevens married Elsie Kachel and worked for various law firms before finally becoming VP for an insurance company in New York.
Following a merger in 1914, Wallace Stevens was forced to find work elsewhere and settled in Connecticut which would be his home until his death in 1955. It was later life that he began to produce the poetry that would see him win a Pulitzer. Although he had been writing since his Harvard days, Stevens' first serious work was not published until 1914 when he was 35.
Even then it was nearly another ten years before his first book came out, Harmonium, published in 1923. The collection consisted of 85 poems that ranged from very short two line verses to poems of several hundred lines or more. Whilst it received some praise from critics, such as Mark Van Doren, the first run only sold around 100 copies.

His poems are characterized by abstract thought and he has often been quoted as saying that poetry is the 'supreme' blend of the real world and the imagination. Over the 30s and 40s he wrote five more books of poetry including Owl's Clover in 1936 and Transport to Summer in 1947. He was unusual in comparison to many poets of the time in that he was successful in another field entirely, insurance law, often writing to his wife in the early days of their marriage to say that he felt writing poetry, while fulfilling, was hopelessly absurd.
A poem such as The Comedian as the Letter C, is typical of Wallace Stevens' work, with the use of a wide, often difficult, vocabulary, interspersed with bouts of humor that could be best described as obscure. His reason for writing a particular verse was sometimes no more complicated than wishing to play around with the sounds of words.
His second collection Ideas of Order was a much bleaker affair than his first, dwelling on such subjects as death and aging. It came after a period when he did not write, following the birth of his first child, but marked him out as one of the rising stars in American poetry. As he developed, he tried to use his poetry to articulate the purpose of the poet in defining reality. His collection The Man with the Blue Guitar was largely considered a triumph by critics at the time.

By the 1950s, he was considered one of the foremost poets in the United States, and in 1955 his Collected Poems of Wallace Stevens earned the Pulitzer Prize. By this time, however, he was suffering from the ravages of cancer and was admitted to hospital several times. He passed away in August 1955 at the age of 75 and is buried at Cedar Hill Cemetery in his home town of Hartford.