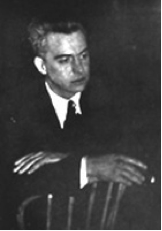 Here is a troubled individual who struggled right through his short life to find himself.  The fact that he put so much time and effort into his one great epic piece of work (The Bridge) suggests that he thought that this would be the answer.  It failed though and, because of that, he found himself mentally and physically crushed.  He had been both inspired and depressed by T S Eliot's similarly epic piece (The Waste Land)  and he hoped to produce something at least as well received, but at the same time a piece of work with more sincerity and optimism than Eliot's.
Harold Hart Crane was born in 1899, the son of a successful candy and chocolate bar producer in Garrettsville, Ohio.  It was not a happy home though and when Crane was 18 his parents divorced.  He took jobs in New York in copywriting and it was here that his love of this great city was born.  His avant-garde lifestyle in New York brought him to the attention of some magazine editors who published some of his work, such as his first volume of poetry which he called White Buildings (1926).  Earlier he had been conducting a homosexual affair with a Danish sailor and this prompted a series of erotic poems under the title Voyages which was generally thought to be about this experience.
The Danish sailor (Emil Opffer) invited Crane to live in his father's home in Brooklyn Heights and it was here that he drew great inspiration from the wonderful river and Manhattan skyline views.  He began writing The Bridge here.  During the spring of 1924 he wrote the following to his mother about how he was feeling:


Here is a tiny section from a part of this work and you can imagine him gazing out across the river and then penning these lines: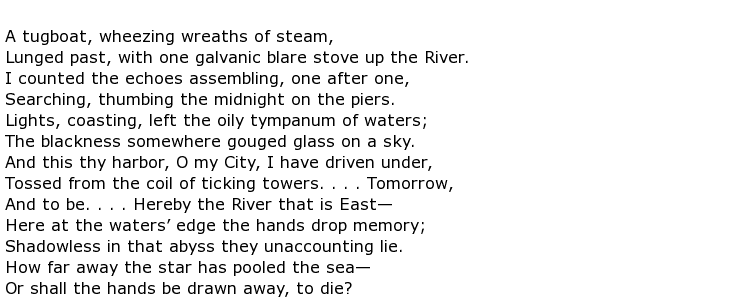 The Bridge was Hart's attempt "to synthesize America" and he hoped it would be an uplifting counter balance to Eliot's The Waste Land.  He even managed to procure some sponsorship to the tune of $2,000 from New York Arts patron Otto H. Kahn to help him get started but it failed to lift him out of his depression.  Even moving to Paris in early 1929 had no positive effect on his mood, even though he had the use of a fine villa on a country estate owned by the owner of the fine arts press "Black Sun Press".
Hart travelled to the south of France where it was reported that he had "slept with his 30 sailors" and often got drunk on Cutty Sark liquor.  On returning to Paris he got into trouble with the police and spent some time locked up.  His benefactor at Black Sun (Harry Crosby) bailed him out and paid for him to return to the States so that he could finally finish The Bridge. The fact that this long piece of work was so badly reviewed was another crushing blow to Crane and he drank even more in an attempt to mask his failures.
He had a brief dalliance with a woman called Peggy Crowley in 1931 and wrote a poem called The Broken Tower about this (probably) one and only heterosexual affair in his whole life.  Crane was in Mexico by now and, despite seeming to be happier, he dipped once more into homosexuality and edged ever closer to his doom with each passing day.
He received a beating from a male crew member when sailing back to New York, having made sexual advances that were not welcome.  This may have just tipped Crane over the edge and, sure enough, he took his own life. He was seen to walk up to the rail of the ship, take off his coat and, shouting "Goodbye everyone", he jumped overboard into the dangerous waters of the Gulf of Mexico.
Harold Hart Crane died in April 1932 aged only 32.  His body was never found.