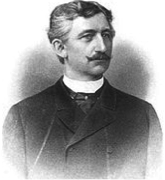 Will McKendree Carleton was an American poet and journalist. He wrote mostly about the rural America in which he grew up and some critics have stated that he did for the people of Michigan what the likes of Robert Burns did for the Scottish crofters, and the Reverend William Barnes did for the English farming fraternity.
He was born on the 21st October 1845 in Lenawee County, a part of the state of Michigan that had only been in existence for about twenty years. His parents, both of the Methodist religion, ran a farm and he was one of five children. William's education was a little fragmented due to his willingness to help out on the farm but he eventually enrolled at Hillsdale College where he was an active member of the literary and debating society known as Alpha Kappa Phi. At his graduation ceremony, in 1869, he recited a poem that he had written called Rifts in the Cloud. He had started on his poetic career earlier though, at the age of 13, with a poem called Dying Indian Chief.
He worked on his early skills as a writer and took up an appointment as a journalist following college. In 1871, while working as the editor of the Detroit Weekly Tribune, he published his first piece of work that achieved a wide audience. It was a poem on the subject of marital divorce called Betsy and I Are Out. The famous magazine Harper's Weekly picked it up and, the following year, Carleton was a nationally known figure when he wrote Over the Hill to the Poor House. This was a poem which highlighted the hardships for some of family life and growing older. It tells the sorry tale of an old woman trudging her way to live a life that has no joy for her, and apparently no hope. Here are the opening verses to this long poem:

He was now in much demand and travelled the country talking about his work while also continuing to write. He was married in Boston, in 1882, and the couple moved to New York City. He became an important figure in university life there. He served as the Delta Tau Delta alumni chapter's president and here his reputation grew year by year. By the time he went back home to Michigan in 1907 his work was so important that, eventually, a law was passed in the state that all teachers had to teach their pupils at least one Carleton poem.
It was said that the work of Will Carleton allowed the American people to be



and that



His literary output was considerable, beginning with Rifts in the Cloud in 1869. Other titles include Farm Ballads (1873), Farm Festivals (1881), Rhymes of Our Planet (1895) and A Thousand Thoughts with Index of Subjects, his last collection which was published in 1908.
Nowadays, October 21st is officially Will Carleton Day throughout Michigan and he is further honoured by having a school in his hometown of Hillsdale named after him and numerous roads bear his name.
Will McKendree Carleton died on the 18th December 1912 at the age of 67. He had been undertaking yet another lecture tour when he came down with bronchial pneumonia, from which he never recovered.