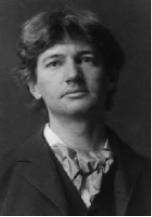 This Canadian poet was more often known by the shorter version of Bliss Carman. He actually lived for most of his life in the United States and it was here that he became known worldwide. He was never forgotten in Canada though and they made him their Poet Laureate in his later years. He was a lyrical poet who was numbered amongst the so-called Confederation Poets in Canada and shared this status with the likes of Duncan Campbell Scott and Archibald Lampman. Carman stood out from some of his contemporaries in that he dedicated himself to poetry, occasionally writing critical commentaries on philosophical or literary topics. Others often chose to diversify into journalism or writing novels.
He was born William Bliss Carman on the 15th April 1861 in a small New Brunswick town of Fredericton. His mother's maiden name was Bliss and he counted amongst his family members and ancestors a number of literary figures including Daniel Bliss, the great grandfather of the poet Ralph Waldo Emerson. Carman was well educated, achieving a BA in 1881 at the University of New Brunswick (UNB). At school he had developed a love for the classical literature of authors such as Algernon Charles Swinburne and, so inspired, he had a poem published in the UNB Monthly in 1879.
Following his time at university he went to Britain, spending a year at Oxford and the University of Edinburgh, studying for his MA. However, he did not complete this until 1884 when he returned to UNB. Family tragedies were just around the corner though with his father and mother both dying within a year of each other and he decided to return to his studies, this time at Harvard. He spent two years there (1886-87) and embraced the university literary scene wholeheartedly.
Once his studies were complete he went home once more and then pondered where to go next, quite naturally thinking that it should be somewhere that had the potential for earning money from his literary skills. He considered New York and London, but decided on Boston. It was not the right choice and he was soon in New York, working as a literary editor on the New York Independent. He used this job as an opportunity to promote Canadian poets but, alas, his days were numbered here and he was summarily dismissed in 1892.
He followed this with spells on other publications such as Atlantic Monthly and Cosmopolitan but he soon grew anxious to be a contributor to rather than an editor for such magazines. He tried his luck at publishing his own first collection of poems in 1893. Low Tide on Grand Pré was not successful but, the following year, he struck gold with Songs of Vagabondia. It was actually a collaboration with another young poet called Richard Hovey and the book went to sixteen editions over a period of thirty years. Here is a short taste of this collection, a poem called A Vagabond Song: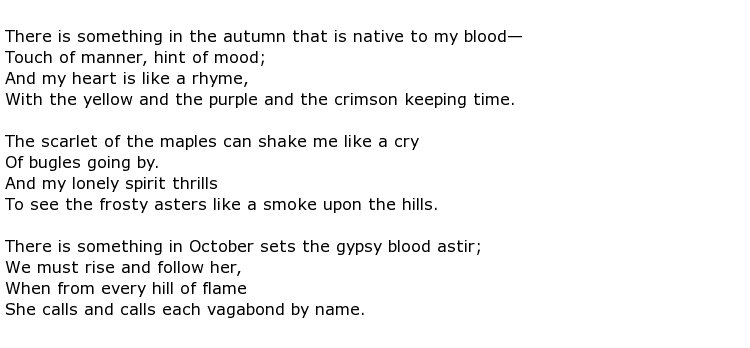 The three volumes of Vagabondia that followed did not quite reach the same heights but still achieved huge success. The two poets found themselves subject to cult status with students who loved the themes of anti-materialism and individual freedom. They could have been written just for such an audience!
Carman made a huge financial mistake when he found himself tied to a publisher that held the rights to all of his work. Rather than take royalties he opted for shares in the company. In 1903 this company went bust, and Carman was cleaned out financially. Undeterred he carried on writing, signing up with another company with some success, but without much needed financial security. The rest of his life was dogged by financial difficulties.
Bliss Carman produced a number of collections of his poetry including The Rough Rider and Other Poems, in 1908, and Wild Garden which came out in 1929, the year of his death. He had almost died in 1920 when he caught tuberculosis but a brain haemorrhage finally killed him.
William Bliss Carman died on the 8th June 1929 at the age of 68.