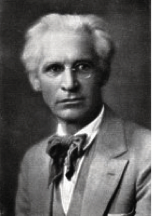 William Ellery Leonard was an American poet and translator of epic works such as Beowulf and classical pieces by Lucretius and Aesop. He also served time as assistant professor of English at Wisconsin university and was well-known as a literary scholar.
He was born William Ellery Channing Leonard on the 25th January 1876 in Plainfield, New Jersey. His parents were great admirers of the New England transcendentalist Unitarian preacher William Ellery Channing, and named their son after him. His father had been a minister himself but was editing a newspaper at this time. This venture failed though and he decided to return to the ministry, uprooting the family to Bolton"s Landing, Massachusetts.
Young William was taught by his kindergarten teaching mother for the first five years and also received tuition from his father. All of this meant that he did not go to school until the age of nine. He soon developed a love of literature and would have liked to have gone to college but family finances prevented that. However, whilst at high school, he enjoyed a stroke of good fortune when he mistakenly ended up at the College of Liberal Arts at Boston University when taking a day trip to the city. He was invited to speak to the Dean who, clearly impressed by the potential of this young man, offered him a tuition scholarship.
Leonard was already a prolific poet and, in 1899, he had a piece called Parson Moody"s Prayer published in The Century Magazine. He had managed to achieve his aim of getting to university and he found himself editing the University Beacon newspaper at Boston University. He gained a BA degree and was then invited to stay on to take a masters' course. Not only did he achieve this but he was also employed in a temporary capacity teaching Latin at the university. He followed this up with a postgraduate fellowship which would enable him to study abroad, choosing to study in Germany at two separate universities.
In 1904 he gained a PhD with his dissertation being on the influence of Lord Byron on American poetry during the years 1815-1860. Two years later Leonard accepted an invitation from the University of Wisconsin to become Assistant Professor of English. His achievements as an academic probably overshadowed any literary success and, when he had his first collection of poems published in 1906, there was very little attention paid to Sonnets and Poems. This work was, however, described as



Leonard's most famous work was a cycle of 250 sonnets called Two Lives which was a poignant but detailed view of his own tragic first marriage. This had begun in 1909 but ended a year later when his wife Charlotte committed suicide. It was described by fellow poet Stephen Vincent Benét as



Understandably, after such an event, Leonard was a troubled man and his well-being was further hampered by the condition of agoraphobia which had been a burden for most of his life, and continued to be so.
He was probably suffering a melancholy mood when he wrote the poem May-Night which appears to be a lyrical view of the natural world in spring time. But he then ends it with a dark reference to "dead men"s armies", no doubt a reference to the First World War and other terrible conflicts. Here is the poem: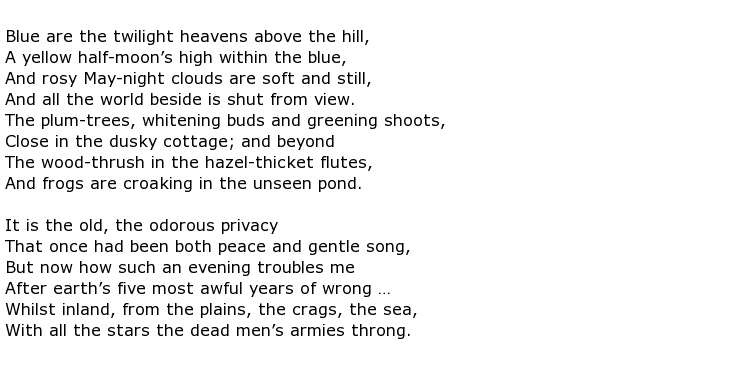 William Ellery Leonard died on the 2nd May 1944 in Madison, Wisconsin, at the age of 68. A troubled life was summed up by a newspaper report which suggested that his death had