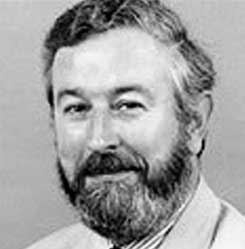 Probably best known for his work as a literary critic, Sir William Empson was also a gifted, though sporadic, poet in his own right. He was born in Yorkshire in 1906 and his father died when he was young, Empson being sent to public school shortly after. He was initially more interested in mathematics than in literary works, something that earned him a scholarship to Winchester College where he seemed to thrive.
After finishing college, Empson went onto Cambridge where he achieved a degree in mathematics before taking another one in English. He began writing one of his most well-known works Seven Types of Ambiguity when he was just 22 but catastrophe was about to strike – after entertaining a woman in his rooms, Empson was stripped of his scholarship and banished from the city, his degree achievements wiped from the records.
For a while, he supported himself by working as a freelance journalist and critic before heading for Japan to teach in the early 1930s. Seven Types of Ambiguity was published in 1930 and marked a change in criticism that was at first more popular in the United States than in the United Kingdom The content consisted largely of the essays he had constructed whilst at Cambridge and would eventually change the way literature was read in the 20th century. It was followed by Some Versions of Pastoral in 1935.

After returning to the UK for a short while, Empson once again headed out East, this time to China to teach at Peking University. Unfortunately, this was shortly before the Japanese invasion and he was forced to go north to Kunming. He eventually returned home to England in 1939 as the war in Europe was just beginning, equipped with an interest in Buddhism and having starting perhaps his greatest critical work The Structure of Complex Words.
At this time Empson worked with BBC foreign broadcasts and became friends with writer George Orwell who was editor of the Eastern service. Empson's later critical work included Milton's God that was, at the time, seen as a sustained and often vitriolic attack on Christianity. He was at pains to point out, though, that it was Milton's strict adherence to the scriptures that caused such a disparate vision of God.
In some areas, Empson's own poetry was influenced by that of John Donne but also later contained flavors of his newly found interest in Buddhism. In fact, his output was quite small compared to his contemporaries and most of his works are from the earlier part of his life – he stopped writing poetry altogether in 1940 and a complete collection of his work was not published until after his death.

After the Second World War, Empson returned to China to teach and by the late forties also taught a summer school in Ohio at Kenyon College which included an array of literary heavyweights amongst its ranks including Robert Lowell and Alfred Kazin. After returning to England, he became the professor of English at Sheffield University and remained there until he retired in the early 1970s.
Cambridge finally awarded him the degree they had denied him after his expulsion in the 1920s and he was also made a Knight of the Realm in the late 70s. Empson died in London at the age of 74 in 1984.