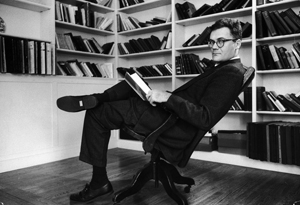 Poet Robert Lowell's turbulent journey in life is echoed in the more personal of his poetry.
Robert Lowell was born in 1917, the son of the famous Lowells of Boston, a family that already boasted two poets, James Russell Lowell and Amy Lowell. He followed family tradition by enrolling at Harvard, but after two years – and upon the advice of his psychiatrist – transferred to Kenyon College.
At Kenyon, Lowell took up another family tradition – poetry. His studies under poet John Crowe Ransom inspired him, as did his graduate work at Louisiana State University, where his professors included Robert Penn Warren and Cleanth Brooks.
Despite a myriad of personal troubles – manic depressive episodes that resulted in his institutionalization on several occasions, a conversion from the Episcopalian faith to Catholicism, political views that saw him imprisoned for conscientiously objecting to World War II – Lowell wrote accomplished, elegant poetry, and for his efforts was rewarded the Pulitzer Prize at the age of 30 for Lord Weary's Castle.
Encouraged by psychiatrists to write about personal experiences as therapy, and inspired by the burgeoning Beat movement of the 1950s, Lowell began to abandon the formal, impersonal poetry he'd been known for. From the 1950s onward, Lowell's poetry was more inward and personal, and as a result, stronger; his poetry collection Life Studies, released in 1959, would come to be known as The Waste Land of its day, a collection that changed the face of modern American poetry. Life Studies received the National Book Award in 1960, and its influence spread, leading to a new genre of American poetry named "confessional" by M.L. Rosenthal.
Life Studies cemented Lowell's reputation as a poet, and during the 1960s, he began to parlay his newfound celebrity into a platform for his political views, publicly refusing an invitation to the Johnson White House as a statement against the Vietnam War, and participating on the March on the Pentagon in 1967.
Concentrating on plays nearly as much as poems throughout the 1960s and early 1970s, Lowell returned to poetry in the mid 1970s. He won another Pulitzer Prize in 1974 for the collection of poems The Dolphin, and served as Chancellor for the Academy of American Poets from 1962 until 1977 when he died of a sudden heart attack in a New York taxi at the age of 60.
Poems by Robert Lowell:
Dolphin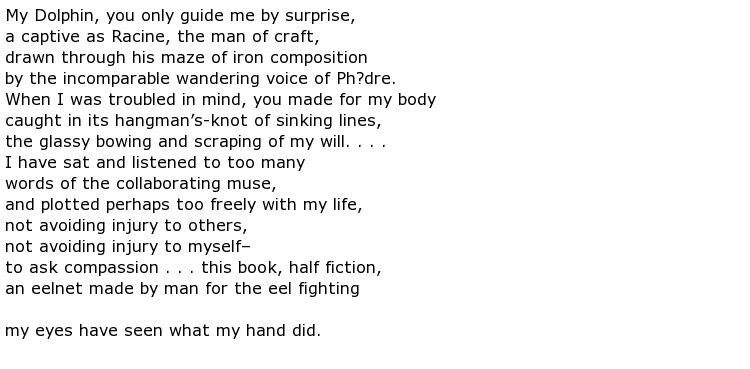 Man and Wife
The Withdrawl