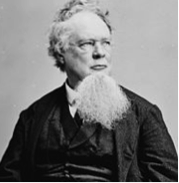 William Gilmore Simms was a 19th century American novelist, historian and poet who had strong pro-slavery views which, understandably, were at odds with many others around at that time. He belonged to the so-called "sacred circle" of southern-based intellectuals including Nathaniel Beverley Tucker and Edmund Ruffin who had strong moral views on the subject of master and slave. Simms even wrote a novel deliberately at odds with Harriet Beecher Stowe's famous Uncle Tom's Cabin, offering his own views in a vehement manner. He was certainly well regarded as a writer by contemporaries, and Edgar Allan Poe suggested that he may have been



He came into the world on the 17th April 1806 in Charleston, which is in South Carolina. Despite being born into a family that could trace their roots back to Scotland and Ireland, his early life was hard; he lost his mother while he was still an infant. On top of this, his father joined up with Coffee's Indian fighters, thus leaving young William to be raised by his grandmother. He was a talented writer from an early age and yet his first ambition was to become a lawyer. He was called to the bar in Charleston at 19 but this was a short-lived career move. His burning desire was to become famous in literary circles.
At  21 he had his first collection of poetry published under the title



The following year he was working as a journalist on the City"s Gazette, taking on the editorship of the paper for a few years. Once that venture had failed, Simms decided to concentrate on writing poetry and, between 1929 and 1932, he had two collections of poetry published and an epic poem called



His name was now well known and his reputation was further enhanced in 1833 with a novel called



Despite his burgeoning reputation, the class-conscious residents of Charleston snubbed him at first because he had not come from aristocratic stock. He won them over though and he was soon being called the "southern version" of the prolific writer James Cooper. His output included a series of eight novels that were set against the Revolutionary War, with the stories based in and around South Carolina.
He wrote poems on this subject as well, and a good example was a piece called Fort Wagner which glorified the brave "gallant boys" who served there. Here are the opening two verses of the poem: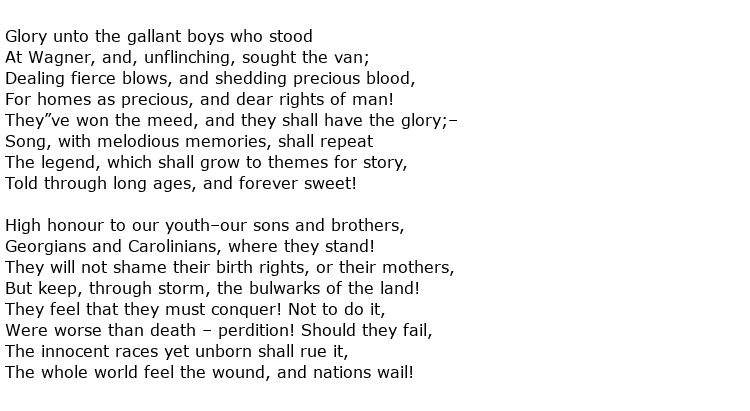 It is a well-known fact though that the most controversial part of his writing was his standpoint on the issue of slavery. He wrote scathing reviews of Uncle Tom's Cabin, having a totally different opinion on the subject to that of Miss Stowe. He came back at her, almost immediately, with his counter-view, a novel called



He was not alone in his views though, and other writers brought out books portraying the benevolent white master and his wife, presiding over the almost child-like slaves who benefited from their protection.
In later life Simms became a part of the so-called



and stuck to his earlier views on slavery. Although they was popular at the time of writing, many of his books were later almost ignored by American literary students. Some of his views, and indeed his version of history, were not well received in later years.
William Gilmore Simms died at his home in Charleston on the 11th June 1870 at the age of 64.