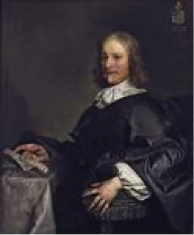 William Strode was a 17th century English poet and Doctor of Divinity. He hailed from the south west county of Devon and, thus, warranted an entry in John Prince's huge tome that he called The Worthies of Devon, a major work published in 1701 to celebrate the major figures that came out of that county.
Some doubt surrounds his birth date; records suggest that he was born on the 11th January in either 1602 or 1603 into an old, aristocratic family. The Strode family seat was the Newnham estate in the parish of Plympton St Mary. His parents sent him to be educated at Westminster School in London and he then went up to Christ Church College, Oxford. He actually remained there for the rest of his life, becoming the college's Public Orator in 1629.
His writing started at an early age and by the time he was 17 a poem that he had written in Latin called Annae Funebria Sacra was published. He earned a Bachelors' degree in 1621 and he followed this with an MA three years later. Besides being a writer, Strode had ambitions to enter the clergy and he began his preaching career from 1628 onwards having been ordained as a priest shortly before.
As college orator he had the honour of meeting King Charles I on two separate occasions when Oxford had royal visits in 1635 and 1636. Strode also wrote a play to be performed for the king and it turned out to be a disastrous effort, due to his total lack of skill as a dramatist. He had been instructed by the Chancellor of the university, one Archbishop Laud, to write a stinging attack on Puritanism. This did not sit well with Strode, having members of his family back in Devon who were strongly Puritan. Despite his poor show he got the canonry that had been promised, a reward for his literary efforts, and he was made a Doctor of Divinity.
He was now able to marry and he did so in 1642 which was the year that civil war broke out. Strode found himself in moral difficulties, being a supporter of the king while many of his Devonian family were fighting on the other side. He remained in Oxford though and continued his preaching and writing. Much of Strode's poetry could be described as elegies and love poems which were fairly typical of the time that they were written. Other pieces of work had a satirical and comical feel and some of these were set to music and sung around the country.
Here are two short examples of his love poetry. The first is called Kisses:



The second is a humorous one called



He wrote about Oxford life of course, but also about the typical events and issues of 17th century England. Some literary historians have compared his work to that of writers such as Thomas Carew and Richard Corbett. He was certainly a very popular poet during his time and, but for his early and untimely death, he may have written a great deal more.
William Strode died on the 10th March 1645 at the age of either 42 or 43. It was odd that he left no will and this suggests that his death was unexpected. His body was buried in the Divinity Chapel of Christ Church Cathedral in Oxford.