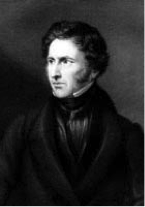 William Taylor Collins was an 18th century English poet whose literary influence has placed him, according to historians, second only to Thomas Gray amongst leading poets of that time. Up to then much English poetry had been of the Augustan type as written by Alexander Pope and others. Collins introduced a more lyrical style that ushered in the Romantic era that soon followed even though he never really enjoyed his own success due to depression and subsequent mental illness that, no doubt, contributed to his untimely death.
He was born on the 25th December 1720 in the Sussex town of Chichester into modest but comfortable family circumstances. Early education was at the Prebendal School in Winchester where he excelled at English, often at the expense of his Latin studies. He then went up to Magdalen College, Oxford. He had a writing talent and published the Persian Eclogues in1742 while still at university, a project that he had begun at his Winchester school. He graduated the following year with a Bachelors' degree, uncertain where his future might lie.
Collins considered a career in the clergy but decided instead to opt for writing full time. He was supported while living in London by a cousin and was soon enjoying the society of members of the literary and acting fraternities. Contemporaries at that time included Dr Samuel Johnson and David Garrick. His early work was published in The Gentleman's Magazine. A collection of poetry, published in 1747 under the title Odes on Several Descriptive and Allegorical Subjects, can now be seen as the benchmark for his and other Romantic poems that followed. They were not, however, much liked at the time and this apparent antipathy towards his writing drove him to drink. Depression soon followed and he was then committed to McDonald's Madhouse in Chelsea in 1754, by now deemed by doctors to be clinically insane.
Although he was released into the care of a married sister, near his former home in Chichester, he was now a broken man and died in 1759. Despite his mental instability, Collins had continued to write, in particular odes, and he submitted one called Ode on the Music of the Grecian Theatre to the successful musician William Hayes. This, added to a revised issue of the Persian Eclogues, could be said to be two rare successes for Collins even though it all came too late for the author.
In the years following his death, his poems were reissued in new collections, posthumously gaining a certain amount of recognition for his work. While much was praised, some attracted criticism. Dr Johnson, for example, while writing about his friend Collins in complimentary terms, actually dismissed his poetry as "…contrived and poorly executed". Charles Dickens referred to him in the novel Great Expectations, with one of the characters mentioning Collins in a rather disparaging way.
Here is an example of one of his many odes, this one called Ode to Peace: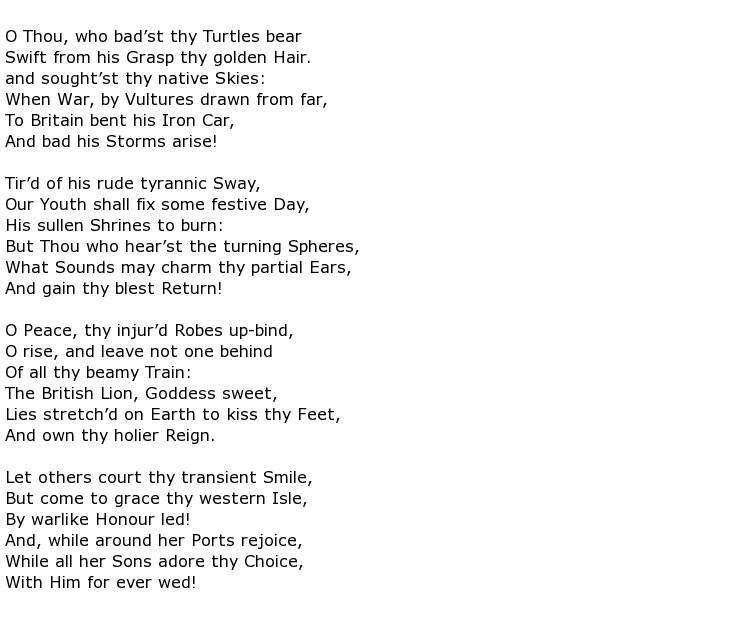 Collins was a man of great literary talent with a gift for European languages so it is a tragedy that his perceived lack of success led him on the downward path to insanity by way of alcoholism. He had tried to shake off his woes with travel, particularly in France, but none of this relieved his burden. His final years, spent with his sister, were some relief to him. He was visited by friends who tried to coax him back to where he was, but all to no avail.
William Taylor Collins died on the 12th June 1759 at the tragically young age of 38.