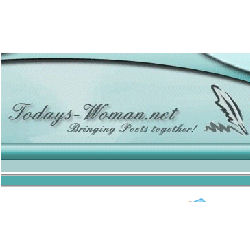 Random web searches sometimes turn up some lovely finds – and this is one of them. Todays-Woman.net is an active portal for poets – and despite the name of the site, it"s not just for women poets. Named one of Writers" Digest"s Top 101 Sites of 2006, Todays-Woman.net welcomes both men and women – in fact, nearly half of their members are of the opposite gender. They bill themselves as an interactive writing community for men and women 18 and older. They"re more than just a community forum, though. A free account – registration only requires an email address and a statement that you are over 18 – allows you access to the community forums, helpful articles from published expert writers, news and calls for submission, the right to submit your own articles and poetry for inclusion and lots more.
Like another of my favorite resource sites, GotPoetry, what makes Today"s-Woman.net so special is the commitment of its owner, Rose DesRochers. In her own words, she takes

That commitment shows in the variety of help and encouragement you"ll find at Todays-Woman.net. From honest critique of your work on the forums to a section of classifieds where you"ll find calls for submission and want ads for writers of all sorts, the site is designed to be supportive to writers and poets. One of the best features – and a feature I haven"t seen anywhere else – is their Writers Warnings section, a growing database of reports from writers about scams, unethical publishers and things to watch out for in poetry contests and publishing. They name names and give details, making it easy to avoid the pitfalls of trying to get your work published.
Besides the usual community based forums, you"ll also find a few things you won"t on other community sites – the Members" Books, for instance, where members can list their own works for sale to other members and the general public. There"s an excellent resource section with several hundred listings in over 30 categories – and some just-for-fun features like daily horoscopes, games and e-cards. And of course, there are excellent articles about every aspect of writing poetry, from where to submit to how to beat writer"s cramp.
This is a definite add-to for your list of poetry resources. If you haven"t visited it, check it out and let them know where you heard about them!