If you"ve ever got a line of poetry stuck in your head, or found yourself betting with a friend about who it was that penned the lines "Tyger Tyger burning bright", this week"s resources are just what you need.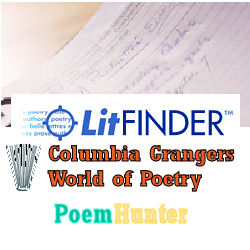 These three online poetry databases include searchable indexes of hundreds of thousands of poems by title, poet and text. Two will require that you have a library card with a university or public library that has an account with them. The third is a free for all that will subject you to advertising – but can be accessed by free of charge by anyone that has an internet connection.
The Columbia Grangers World of Poetry Online is a comprehensive, searchable database of anthologized poetry from all over the world. Originally created in 1904, the print version of the Columbia Grangers Poetry Database is in its 12th edition. The web version went online in 1999 as The Columbia Grangers World of Poetry. Academic institutions and public libraries pay a subscription fee to allow their subscribers access to more than 50,000 full text poems and over 400,000 poetry citations. In addition, Columbia Grangers includes over 1100 commentaries and 500 poets biographies taken from over 1800 anthologies. The database offers a very flexible search engine that lets you find poems by lines or words in the text, title, poet, anthology, subject and era.
Poem Finder is a second web-based subscription service used by public libraries and educational institutions. It"s produced by Roth Publications, and allows you to search through over 600,000 indexed poems and sources, 50,000 of them including the full text entries. The advanced search allows you to get very specific by using Boolean terms to drill right down to an entry by a female author in the 20th century containing the words "one perfect limousine" (It"s Dorothy Parker"s One Perfect Rose, for those keeping track). Again, all you need to access it is a library card or student ID number issued by an institution that subscribes to the database.
Poemhunter is a free database open to anyone at all. You don"t even need to register for a free membership, though doing so gives you a few added perks like the ability to save a list of favorites so that you can come back to them easily. According to Poemhunter"s own records, "Our database contains 106,831 poems from 11,602 poets.. 39,210 Songs.. 1,323 Artists.. 64,870 Quotations..". The search isn"t quite as flexible as the two subscription services, and can return some interesting results, but in 10 tries it located the correct poem given a first line or fragment of the poem every time. Granted, on one of those tries, the correct poem (with a full line of the poem given as the search term) was 15th on the list, but it was there.
Next time you need to prove your point, find the perfect quote, or just inspire yourself with poetry written by others, take one of the online poetry databases for a test drive.