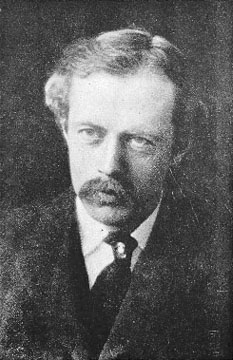 Arthur Symons" class="alignright size-full wp-image-916″ />Arthur Symons was born in 1865, the son of a Cornish preacher in Wales. He moved around a great deal throughout his childhood, prompting him to later write that he had never had the kind of childhood that most children do, staying long enough in one place for it to "become a part of him".
Because of the frequent moving, Symons schooling was erratic, but he taught himself well. His first published article, on the subject of poet Robert Browning, appeared in the Wesleyan-Methodist Magazine when he was just seventeen years old. Two years later, when he was just nineteen, his paper, "Is Browning Dramatic?" was read to a meeting of the London Browning Society, and at twenty, Symons was writing the introductions to Shakespeare's Venus and Adonis for the Quarto Facsimile Series. He was just 21 years old when his first book, Introduction to the Study of Browning, was published.
It was another three years before Symons own poetry appeared in a book, Days and Nights. Over the next 20 years, Symons was prolific, publishing not only poetry but also works of criticism, plays and memoirs. He traveled in the same circles as the most well-known poets of his day – Yeats, Oscar Wilde, T.S. Eliot, James Joyce among others. Eliot attributed his interest in the romantic poets to Symons, saying that if he had never read Symons, he would never have read others who greatly influenced his writing and his life.
Symons was most well-known for his translations of the French poets, including Verlaine, Mallarme and Huysmans. His own poetry often evoked harsh criticism from both newspapers and his fellow poets. Said the Pall Mall Gazette, "Mr Arthur Symons is a very dirty-minded man, and his mind is reflected in the puddle of his bad verses". His poetry celebrated sensuality, and he was often grouped with the French Decadents school of poetry and has been credited with sowing the seeds for the Modernist school of poetry.
In 1909, while traveling with his wife in Italy, Symons suffered a nervous breakdown from which he never completely recovered. Though he lived till 1945, most critics of his work feel that his work after his illness never approached the promise of his earlier works.