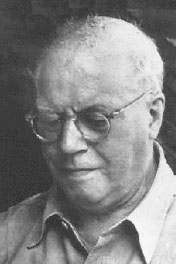 Conrad Potter Aiken was born August 5, 1889 in Savannah, Georgia. His early childhood years were marked with trauma of the worst kind. His father murdered his mother and then committed suicide over financial problems. Aiken may have witnessed the killings, or found the bodies. Either way, the incident marked him indelibly. After their deaths, he was raised by his great-great aunt in Massachusetts. He was educated at private schools and attended Harvard University, where he edited the Advocate with T.S. Eliot. He graduated from Harvard in 1912, at the age of 22.
From the start, Aiken devoted himself to writing, having a small private income with which to support himself. After a brief stint as a reporter, he focused on writing fiction, criticism and poetry. His first book of verse, Earth Triumphant, appeared in 1914, just two years after his graduation. By that time, he had been married for two years to Jessie MacDonald. The three children of that marriage, John Aiken, Joan Aiken and Jane Aiken Hodge, all went on to become published authors in their own rights. Aiken married twice more, to Clarissa M. Lorenz in 1930, and to Mary Hoover in 1937.
During his adult years, Aiken traveled extensively, never settling in one place for very long. He alternated often between living in England and returning to the United States. He lived in Boston and New York, and in Rye and London, England. While in Rye, he wrote a column, "London Letters", for the New Yorker.
In 1930, Aiken received a Pulitzer Prize for his Selected Poems. From 1950 to 1952, he served as consultant in poetry to the Library of Congress, the precursor to the current Poet Laureate position. In addition to his Pulitzer Prize, Aiken was also awarded a National Book Award, the Bolinger Prize, a Gold Medal in Poetry from the American Academy of Arts and Letters, and a National Medal for Literature. Despite the honors that were heaped on his works of both poetry and fiction, Aiken never enjoyed the popularity of writers like T.S. Eliot. That was partly due to his own shyness and reluctance to give public performances of his work, and partly due to his frequent moves between Britain and the U.S. which made it difficult to classify his work as American or English.
Aiken's strongest reputation may have been as a critic of poetry. His harsh, truthful critiques likely didn't make him many friends among other poets, but they are still regarded as brilliant.
Aiken died in 1973 and is buried in Savannah, Georgia. Most fitting to his wry sense of humor, his tombstone is a bench, inscribed with the words, "Give my love to the world". According to local legend, the bench was Aiken's request, so that people might be inclined to sit on his tomb and enjoy a martini or glass of Madeira.