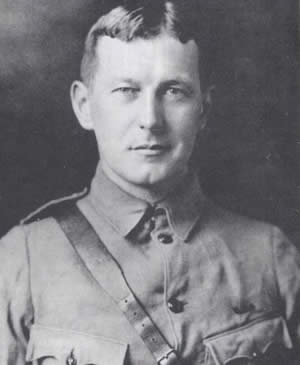 John McCrae" width="300″ height="365″ class="alignright size-full wp-image-919″ />John McCrae was born November 30, 1872, in Guelph, Ontario. He began writing poetry while he was still a student at Guelph Collegiate Institute, and continued writing throughout his life. He graduated from Guelph at age 16, and won a scholarship to attend the University of Toronto, the first Guelph student ever to do so. By that time, he'd already been a member of the Highfield Cadet Corps for nearly three years, having joined at age 14. At 17, McCrae joined the Militia field battery that was under his father's command.
In his third year at University, McCrae was forced to take a year off from his studies due to his severe asthma. During that year, he taught at the Ontario Agricultural College. He returned to University of Toronto in 1893, and completed his Bachelor of Arts degree in 1894, moving on to attend medical school at the University of Toronto. During his years at University, he had sixteen poems and a number of short stories published.
Throughout his schooling, he maintained his connection with the military, and by 1896 had achieved the rank of Lieutenant. McCrae received his Bachelor of Medicine degree in 1898, and interned at Johns Hopkins Hospital in 1899. When the South African War began, he requested a postponement of his fellowship of pathology in order to fight for his country. The conditions that he saw in the fields and hospital tents in that war sowed the seeds for his later attitudes about war and death. He resigned his position with the military in 1904, and did not return to it until 1914, when Britain declared war against Germany. Then, he wrote to a friend, he was "afraid, but more afraid to stay at home with my conscience." He reenlisted in the militia and was deployed overseas to fight for England in World War I.
In April 1915, McCrae was in the area of France known as Flanders when the Germans unleashed one of the most relentless and deadly attacks of the war. That battle took the life of one of his best friends, and was the inspiration for what is easily one of the most famous poems in the world, "In Flanders Fields".
In the summer of 1918, McCrae fell ill with pneumonia after debilitating bouts with the asthma that had troubled him since childhood. He died on January 28th, 1918, just one day after being notified that he'd been appointed to the position of consulting physician to the British Army, the first Canadian to ever receive the honor.
McCrae had the pleasure of knowing that his poem In Flanders Fields was a success. During his lifetime, it was adopted by the Canadian government to use in advertisements for the first Victory Loan Bonds in 1917. Originally meant to achieve 150 million dollars, it ended up raising 400 millions. The poem's heartfelt and stirring message has kept it alive. Through John McCrae's poem, the voices of those who died in war are still heard each Remembrance Day.