Every Monday we feature a book or books of special interest for poets and those who love poetry. This week, we"ve got a grab bag of books of writing exercises to help you focus your writing and hone your skills – or just plain have fun with writing.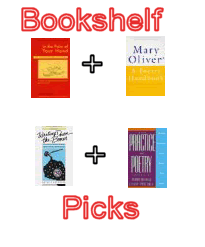 Writing Down the Bones (Natalie Goldberg) is a quintessential book of writing exercises and explorations by a workshop leader with practical experience. Goldberg"s focus is on freeing the writer within by writing from what you feel and feeling what you write.
The Practice of Poetry (Robin Behn, a handbook of exercises from poets who teach, offers ninety practical exercises in writing poetry to help sharpen your images and open your mind to the poetry within.
The Poetry Handbook (Mary Oliver) is a practical book on what poetry is and how to write it. An invaluable reference on the structural aspects of poetry as well as a discourse of the philosophy of poetry, this is a book that belongs on every poet"s bookshelf.
In the Palm of Your Hand: The Poet"s Portable Workshop (Steve Kowits is exactly what the title says – a portable workshop of exercises to help open your eyes and free the muse within. "A good rule of thumb is never to use a word you"re proud of", says Kowits, and that"s just one example of his quick tips on improving your poetry. The book teaches through the use of poetry excerpts and perceptive comments from Kowits. Another must have for your bookshelf.