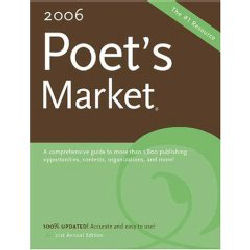 2006 Poet"s Market
Nancy Breen, Editor
It"s the one indispensible book for any poet who wants to publish. This year"s Poet"s Market has more than 1,800 listings of markets that publish poetry. In addition to contact information, each listing also notes whether the market pays for poetry, and how, as well as giving a brief overview of the publication"s style and needs. You"ll also find a list of resources that include chapbook publishers (which is not the same as vanity or self-publishing), book publishers, indexes of publications by regions, by openness to submissions (do they only accept submissions from May to September? One month during the year? Only by invitation), and by subject matter.
The listings are organized in an easy to read format, and icons with each entry let you see at a glance if the market pays, if their publication has won awards and other important information that you want at the tip of your fingers.
Like its predecessors, the 2006 Poets Market offers helpful advice and articles by noted poets and other professionals in the poetry world, including essie Lendennie, Naomi Shihab Nye, Ann Gasser, Greg Kosmicki, Ronald Wallace, David Tucker, and Sandra Alcosser.
This book will not tell you how to write poetry. It won"t help you polish your writing style, or drop exercises on you to sharpen your poetic eye. It will, however, help you focus your sights on publication, whether you"re looking for a publisher for an entire book of your poetry or the perfect market for single poems. Priced at $24.99, you can find it discounted at Amazon.com or at your local bookseller. Grab a copy. It"s worth it. Trust us on this one.