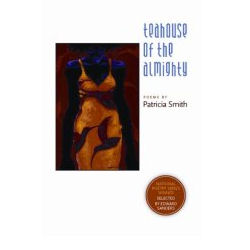 Hailed and lauded as the world"s foremost spoken word performance and slam poet, Patricia Smith has easily transcended any label placed on her. Four time National Poetry Slam Champion, Pulitzer Prize nominee, journalist, playwright, poet – her work lifts off the page to take root AND wing, living in a way that many poets dream their work will do. You"ll read in many places that Smith"s work is rooted in the birth of slam poetry in 1980s Chicago, but that"s a simplistic history. If slam had never existed, her work would still have found its audience – it"s just that powerful. There"s no denying, though, that she is a consummate Slam and performance artist – her poetry and performance blend into a perfect seamless whole where it is impossible to separate one from the other.
I had the pleasure and the honor of competing against Patricia Smith in poetry slams nearly a dozen years ago when the genre was still new and fresh. There is no describing what she does to a room, no words to explain the transformation that takes place when she steps up on the stage -whether that stage is the front of a high school classroom, or a formal stage in a crowded auditorium. She opens her mouth and becomes the poem that she is reading. Her subjects range from mythology to music to current events to the heart of a mother to the silent pain of the undertaker preparing yet another young victim of the violent streets for viewing. Her poetry hits hard and takes no prisoners, whether you read it or she does. Smith has the gift of moving in and out of voices with seamless artistry, stepping into the shoes of another and making that other live and breathe with such vitality that you too can walk in their shoes and become them for the space of the poem. She takes confessional poetry and turns it on its head, confessing in the voices of others with such realism that you forget the writer and see only the poem.
Smith"s first book of poetry in over a decade is due for release in the coming months. Teahouse of the Almighty is a winner of the National Poetry Series award, selected by Edward Sanders. You can pre-order the book through Amazon.com – and I suspect it will be well worth it. For those in the New England corridor, Patricia Smith will be doing several feature readings at some of her old haunts in the upcoming month or two. Keep your eyes peeled for dates at the Java Hut, Reflections Cafe and the Cantab Lounge in Worcester, Providence and Boston.