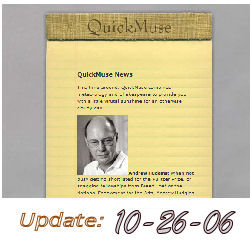 From my mailbox: Another quickmuse update – sounds like some exciting stuff going on over there while I wasn"t looking. I"ll definitely be taking a look at their new blogs~
Former U.S. Poet Laureate Robert Pinsky gave us a peek at the relentless poetic stream that flows through his head, just waiting for him to open the spigot. Read his poem and find out how it can possibly be that "James Mason sounds just like Mel Brooks."
Read Robert"s piece here (http://tinyurl.com/ymtg6m)
From the far side of the pond, Glyn Maxwell gives us a poetic highwire act. Many false starts and blind alleys (and one ephemeral Spongebob joke) culminating in a terrific turn of phrase in the last half minute. You can feel the sweat through your monitor.
Read Glyn"s piece here (http://tinyurl.com/ycqmbo)
+++
Contribute!
You can compete. We know you can. Show us: here (http://tinyurl.com/ykpkzc).
+++
New Goodies!
As promised, QuickBlog (http://tinyurl.com/ydjz58) is now live. We"ve gotten contributions so far from Thylias Moss, Julianna Baggott, and Rudresh Mahanthappa. In six weeks this will be the premiere blog on the subject of improvisation. Don"t let them say you weren"t there from the beginning.
You might note also that we"ve undertaken a major site redesign (on the interior pages — the home page is still the same old same old). We feel it offers greater flexibility and more possibilities for future use. We hope you like it.
Coming Soon:
Holy cow! The first ever humor agon, with Neal Pollack (http://www.nealpollack.com/) and Roy Blount Jr. (http://www.royblountjr.com/) Did we just say Neal Pollack and Roy Blount Jr.? Yes, yes we did. Tune in November 7. And on November 15, we"ve got Paul Hoover (http://tinyurl.com/y9nbkw) and Brad Leithauser (http://tinyurl.com/ykhpu3). These are good times for in-the-moment writing. Don"t miss a drop!
+++