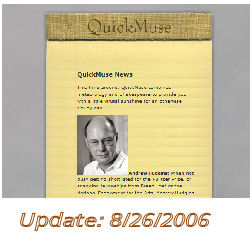 Among the other things dropping into my mailbox this week are updates from Quickmuse, which is rapidly developing into a mini-media sensation. It"s been written up in a few offline newspapers and journals, which has, I"m quite sure, made it easier for the QM folks to entice known poets to feature in their advertised poetry bouts. Since the last time I wrote about the site, they"ve added agons (their word for a head to head poetic bout, adopted from the ancient Greek) from Andrew Hudgins and Charles Bernstein, and Jeffrey McDaniel and Mary Jo Salter. That"s a bout every two weeks, for those who are keeping track.
In addition, Quickmuse is starting to follow the best advice offered to stock market investors – diversify! Coming up in the next few weeks are:
On September 5, Rick Moody and David Leavitt will do our first-ever fiction program.
September 20 is an evening of Anglo-Irish poetry, with U.K. Poet Laureate Andrew Motion and Pulitzer Prizewinner Paul Muldoon.
Famed translators Jonathan Galassi and Geoffrey Brock will do a night of translation on September 27.

That"s all for now. Please let us know if you have any comments or concerns, either at info@quickmuse.com, or in the forums. Cheerio!
And don"t forget to drop by their forums. The discussions there are beginning to get lively – and range far afield from the poetry posted on the main Quickmuse site. In fact, the latest Quickmuse newsletter contains the following invitation:
+++
Reader Submissions?
Think you can do better? Show us your stuff! Register for the forum and drop your verse here.
+++
This is definitely one site that gets high recs from us, if only for the fun of seeing what name-brand poets come up with under pressure.