We begin the week with a look at the winner of the BookTrust award who has made history and the driftwood sculpture of a poet.
BookTrust Winner Makes History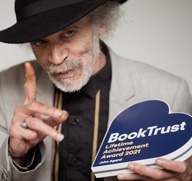 John Agard has made history by becoming the first poet to have ever been named as a Lifetime Achievement Award BookTrust winner. The award has been given for his incredible contribution to the field of children's literature. During the course of his lengthy career, he has published over 50 books including stories, poetry and non-fiction books for all ages.
Agard was born and grew up in Guyana and move to the UK in 1977. It was once he had moved to England that he was able to work on developing his poetry, something that he did through his work visiting schools in the capacity of lecturer for the Commonwealth Institute. He is a firm believer that children do not want to learn the type of dry facts that you might find in a textbook. So when he was talking about coconuts, he created a poem to talk about them instead. That particular poem was published in his first collection of poetry in 1983.
He visited schools for a total of 8 years and loved the work and the interaction with other adults and children. When he was creating his poems, he worked alongside a range of other voices from the Caribbean including John Lyons, James Berry and Grace Nichols – his own wife. The idea was to write poetry that represented the Caribbean voice and showed people that it was not bad English but had its own rhythm and a lilt that gave it a special quality.
There was much praise for Agard from his fellow authors on the announcement with writers like Malorie Blackman and Cressida Cowell talking about his pioneering work in the field of poetry. The poet Benjamin Zephaniah also had a lot of praise for Agard's poetry, describing him as a person who "lights up the world" through his words.
Driftwood Sculpture of Dylan Thomas
An Aberystwyth artist who specialises in driftwood sculptures has completed a sculpture of the poet Dylan Thomas, who inspired him towards a career in art at the age of 17.
The sculpture has taken two years to complete and incorporates a new and original approach that the poet has taken towards driftwood sculpturing. The artist, Walker Wright learnt about the poet when he was trying to get served in a pub at the age of 17 – he never managed to get the pint he was after but struck up a conversation about the poet with the barman and went on to discover that he really liked the poets work.
Growing up dyslexic he hadn't managed to learn to write or read very well at school, but Thomas' poems helped him to overcome this obstacle in his life. He tried writing poetry but discovered that really wasn't his thing, and instead turned to art.
Now aged 40, he admits that the sculpture is something he has been thinking about undertaking for a number of years and it was only in the last couple of years that he has finally begun the work.