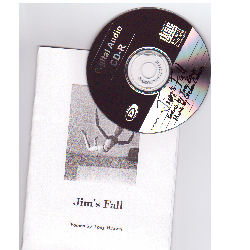 I have to admit that I have never been a fan of poetry backed by music – to me, you put poetry and music together and you get a song, which is its own kind of poetry. Most often, when I have listened to contemporary poets reading their work backed by a musician, the music has served as a distraction to the words, and both words and music suffered for it.
Tony Brown and Steven "Faro" Cafaro changed my mind Sunday night at the Poets Asylum at the Java Hut. The occasion was the inaugural performance of Tony"s newest chapbook, "Jim"s Fall", the chronicle of a suburban guy"s descent into madness. The performance was, to put it bluntly, purely amazing. Tony has long been one of my favorite poets – both to read and hear. He earned that place in my heart the first time I heard him read his poem "Day of the Dead" nearly fifteen years ago. His poetry, even his most prosaic poems, is an exercise in the mystical, and his voice is that of the shaman, drawing the listener into something that is more than a poem. It"s a communion between words and ear, between mind and poet, between listener and the message that blossoms somewhere in the subconscious. I honestly was fully expecting to be disappointed at the attempted wedding of Tony"s poetry with music.
I should have known better. Faro"s artistry on the bass is the equal of Tony"s with words, and the two together were a seamless melding of sound and mood and meaning. His fingers kept time perfectly to match the tone of the tale of Jim"s descent – or perhaps, awakening, adding immeasurably to the experience. Or perhaps that"s the wrong wording. Having heard Tony and Faro working in concert, I can"t hear the poems without the music any longer. Even when I read them aloud myself, I hear the beat of Faro"s bass creeping up behind the words. He matched tone for tone with Tony"s poetry, from the ominous declarations of Jim"s Ego to the funky, low jazzy strum that backs Jim Hangs On and Jim Beats the Rap.
The performance was a masterpiece – and I use the word advisedly. I have been attending poetry features and readings for over a dozen years – I can count on the fingers of one hand how many times I have seen a featured performance receive a standing ovation. This was one of them, and it was well-deserved. When the applause died down, Tony introduced an encore set by Faro – and his music held its own, holding the room spellbound for another ten minutes.
For a taste of what I was treated to on Sunday night, click the track in the Audioblog. Then drop by Faro"s myspace page and give a listen to Faro on his own.. Then stop by Tony"s LJ to read his account of the night. It was magic.
And if you"re going to be in the neighborhood of Bar 13 in NYC on Oct 9th, get there early. Tony and Faro will be doing their only scheduled repeat performance there that night. If you can be there, you should.
(Audio file ripped from Jim"s Fall, Poems by Tony Brown. Music by Steven Cafaro. Used under the terms of Creative Commons License)
[tags]poetry, poems, Tony Brown, Steven Cafaro, Java Hut, Poets Asylum[/tags]