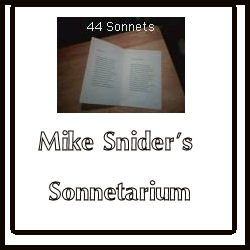 To begin reading Mike Snider"s blog at Sonnetarium is to step into his mind, and into his life. Don"t get me wrong – Sonnetarium is not someone"s personal journal full of "what I did today" type ephemera. Snider is open and candid, and his writing style leads you on and on as if you were sitting in a comfortable chair in a friend"s living room, sharing drinks and going, "Oh, that story reminds me of the time…"
There"s a lot more to Snider"s "home" than just the formal blog, but the blog is a wonderful starting place. While the updating is sporadic, it"s frequent – usually three to five times a week, and he keeps his promise of posting a new sonnet once a week. And just to make it more fun for himself and his readers, he often takes a subject suggested by a reader and turns it into a sonnet. This week"s sonnet, for instance, was suggested by a fellow blogger, Russell Ragsdale.
Snider"s blog entries are treasure troves. Interwoven with bits of poetry and his meandering thoughts are his recommendations for reading, for listening and for doing. It was his blog that introduced me to Mezzo Camin, and online journal of formal poetry by women, and the Poetry Free For All, a community of poets and a discussion forum, and through his recommendations I began finding and reading again poets who write in traditional forms. Sonnets are one of my first loves, but traditional forms are hard to find in some corners of the literary poetry scene, something which Snider noted in one of his posts last year.
So it is that one of the pleasures to which I am looking forward is to hold in my hands a copy of Snider"s hand-made chapbook, 44 Sonnets, reviewed here. The cost for the chap is a measly $3 – well worth it just to own a copy of the single sample sonnet offered – which changes, by the way. Snider also offers his poetic works for sale as custom poems, but you don"t have to buy anything to read it. You"ll find links to over forty of his "abandoned poems" on his poetry page.
But it"s as much Snider"s attitude and beliefs about poetry that make me a Sonnetarium fan – he thinks the way that I do, but phrases it so much more coherently. Here it is in his words – how to write poems:

Mike Snider loves poems – and it"s obvious in the way that he writes them and writes about them. When you read Snider talking about poetry and poems, you get the sense that he is talking about an old friend – and so he is. Because he has learned to love poems.