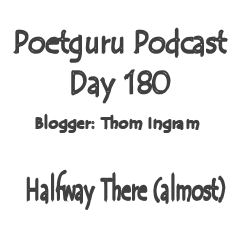 The PoetGuru Podcast: Day # = Lines in a Poem (http://poetguru.blogspot.com)
Thom Ingram has been blogging about poetry since December 9, 2002. I know this because he started hunting for his earlier blogging sites while we were talking in IM tonight and was stunned to find this:
9th December 2002
8:56am: Welcome to the Poem A Day Project
Welcome, hello and good day!
The goal of this little game is to post a poem (on average) every day. That means that if you want to come back tomorrow, and many tomorrows, there should be something new each time.
Long Live the Muse,
thom ingram
PoetGuru
That early blog site was a bit different than his current PoetGuru.blogger.com site. For one thing, he wasn"t alone on that one. He and friends worked to post a new poem each day – a not too shabby undertaking on its own. For another, it was missing something that PoetGuru has – sound. The current poetguru blog has been up since August 2004, and each entry can be both read and heard via podcast. You can listen by subscribing via iTunes, via XML or via a sound page. No matter how you listen, though, it"s definitely worth listening to.
There"s yet another distinguishing little oddity about Poetguru though. There"s a poem a day – and each day of the year, the number of lines in the poem increases by one. Tonight, June 30, he reaches 180 degrees, half a rotation of a circle, the number of days in the school year – just two days short of halfway through the year. He"ll be releasing a press release to herald having made it halfway around the web of days on Monday. We"re beating him to the punch with a salute to his 180th poem.
What is it about sound? we asked him.
"The two most prominent reasons would be The Language of Life series on PBS about 10 years ago.," he responded. "That was the first time I got to hear top notch poets reading their work rather than seeing them on the page. That just clicked with my body for some reason. That first experience sent my off to collect bunches of MP3 poetry files, which led me to hearing TS Eliot reading Prufrock, a poem I was forced to read in school and HATED…"
And it was completely different hearing it? we guessed. But that"s not where he was headed with that particular thought.
"Thank God for iPods! You put something on there and even if you don"t like it, it keeps coming up. Sometimes it gets through. I hated the first 10 or 20 times I listened to the MP3, but once I got past my baggage, I started to speak with Eliot like you would sing with a song, to mimic his cadence and tone and inflection, and that is where you truly get to love a poem and a poet, when you are breathing their breath."
We"d been speaking about hearing good poets reading their own work, so I couldn"t resist asking his thoughts about the whole Spoken Word and Slam scene, and the "divide" between the literati and the glitterati. His response was characteristically thoughtful and thought out.
"In the larger discussion of page v. stage, a dumb argument I have gotten into in the past with people from both sides. It"s a false argument, republican v. democrat. Every one is trying to do good work from their world view, so if we are going to argue, lets argue about world view and not about if someone is using paper or a voicebox. Let"s talk content rather than form. Good poetry is good poetry, as is good policy."
If you want to read more of Thom"s good poetry – or hear it with his inflections and interpretations intact, you"ll find it at poetguru.blogspot.com. Drop by and give a listen, then tell a few friends to listen in too. It"s poetry worth hearing.